Gorka Brings Passion (and Fashion) Wherever She Goes
WOODBURY — An eye for style is something almost anyone can appreciate. From baggy jeans to gala gowns, fashion takes a different shape for every individual. Some call it a hobby; others call it a part of everyday life.
For Megi Gorka, style is the New York City skyline: a starry night where the streets are alive and busy, cars beeping and high-end restaurants opening glass ballroom doors as sleek skyscrapers cast a glow over flashing Times Square billboards. 
"Watching fashion events is a tradition in my house," said Gorka. "I'm very close with my mom, and to this day, we'll sit on the couch and watch them together: Fashion Week, awards shows like the Grammys and the Oscars — anything related to fashion."
Now in her senior year at Nonnewaug, Gorka says her interest sprouted when she was only 4 years old.
"My mom went to fashion school in Europe," she said. "Even though I didn't have any background in [fashion] myself, something about the gowns and the designers spoke to me. Other kids liked sports or art. I liked fashion. If we went to the store, I wouldn't leave unless I had a copy of Vogue in my hand."
With a knack for spotting talent, Gorka appreciates the expressive nature of the industry more than anything else. In an era of social media and instant communication, the doors have been opened to anyone and everyone to make their dreams a reality. Last year, she even teamed up with Nonnewaug senior Ava Witte to make costumes for the school production of Chicago.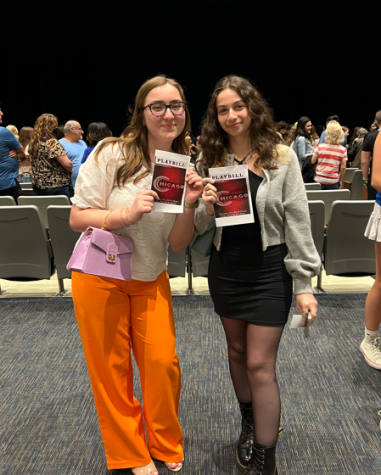 "In the past, it's been difficult to wear what you want to wear because so many people are judgmental," Gorka said. "There are still judgmental people in this world, but things are different now; there are new designers every day. People who deserve recognition for their work can go from obscurity to fame overnight because of their influence online."
"Megi is motivated," said Witte, her partner in crime for all things stylish. "She's willing to put in the work to get what she wants, no matter how hard it is."
She's also garnered a positive reputation around campus.
"When I first met Megi, she was very quiet," said Genna Riggi, an art teacher at Nonnewaug. "I had the opportunity to have her in three different classes and quickly realized that she's not as quiet as she seems. She's not shy, but she's not disrespectful — she's funny, but she's very serious about her academic pursuits. She knows a lot about a lot of things."
Over the years, she has visited Europe countless times to spend time with family and friends. 
"Traveling is more than just exploring our world," Gorka said. "Every time I travel, I get a new perspective on life — gratitude, empathy — because you're not just going somewhere. You're seeing the way other people live. You become an entirely different person."
It's clear that Gorka's passionate personality can't be confined to just one part of the world, and much less to one person. 
"She's delightful," said Riggi. "She just has such a spirit for learning and for growing, with a smile that makes you smile and a laugh that makes you laugh."
"Everything about her is inspiring," said Witte. "She has all this motivation, but she doesn't just keep it to herself. She shares it with everyone around her, and she's your No. 1 fan when you need her the most. She'll be right there with you saying, 'You can do this,' until you believe it, too."
Despite the changes promised by the end of high school, Gorka is positive that her passion for fashion will follow her into the future.
"I'll always keep up with fashion," Gorka said. "Maybe not as a career, but as a part of my life. It's a very freeing form of self-expression, and I think it's part of a dream. Successful and fashionable — that's what I want to be."
A first-generation child of two immigrants from Albania, Gorka plans to take hold of every opportunity that lands in her path. 
"She has the whole world at her fingertips," said Riggi. "She knows that, and she's going to make the most of every moment."
"I'm going to travel, finish my education, be successful and independent," Gorka said, "but most importantly, I'm going to stay true to myself, and look good while I'm doing it."