Gorka Gears Up for Future in Mechanics
WOODBURY — After long hours of tinkering with dirt bike engines, Klinti Gorka wipes his hands of oil and grease and is relieved when he finally hears that dirt bike engine start up for the first time. The cold engine rumbling in the wind? "It's like music to my ears," he says.
Meet Klinti Gorka, a senior at Nonnewaug High School. He has many interests, but his main hobbies deal with dirt bikes and mechanics. 
"Klinti always shows me his dirt bike projects, and it's cool to see the process of him rebuilding engines," said Chris Koemp, a longtime friend of Gorka. "I think it's very interesting." 
Whenever Gorka has time away from work and school he is always doing something mechanical in his free time. He has a strong passion for rebuilding engines and participating in motocross. Although it's not something he is thinking about for a career, he enjoys it very much as a hobby.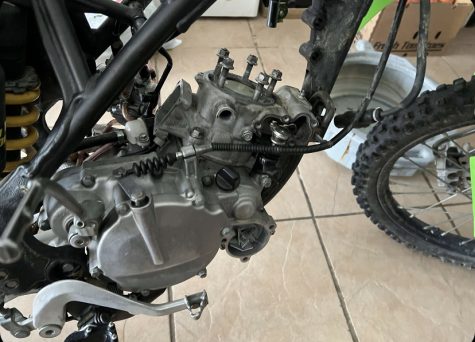 Gorka says his plans for the future are going to be something in "technology or the finance industry."
Gorka always had a passion for motocross, but it wasn't until his freshman year of high school when he got his first dirt bike. This is when his passion would ignite into what it is today. 
"The feeling of accomplishment [is] when I take a dirt bike with flaws and problems and turn it around into something great," Gorka said. "That's what really drives me to do these dirt bike builds." 
Gorka has had many dirt bikes, many of which were neglected and he rebuilt and turned a profit from. 
"I love taking a piece of machinery that has been neglected for years but has some much potential and rebuilding it into a masterpiece," said Gorka. 
Gorka says he will always have a passion for mechanics and motocross even though it's not something he is thinking about for a career. In the meantime, however, Gorka will continue to fuel his passion for mechanics — whether he inherits a masterpiece or not.