Leveraging Leadership: Ryan Wicklund and his Ongoing Contributions to the FFA
WOODBURY — "It ain't nothin', I got this."
These were the famous words of the evening leading up the first round of senior Ryan Wicklund's speech presentation for the Prepared Public Speaking LDE his sophomore year. 
Wicklund's affable personality has always been visible, even before high school.
"Ryan has always been very outgoing but once he got to high school, he really broke out of his shell," said senior Alyssa Hodges, former fellow FFA officer. "He became very involved in after school activities as he got older."
As a freshman, Wicklund came into the school not knowing too much about the agriscience program and what it has to offer. 
That all changed as soon as he set foot at Nonnewaug. 
"Fun fact: When I first got to the ag program, I knew nothing about it. I was like the blindest freshman in the world," Wicklund said. "No one I've known has gone to Nonnewaug or anything like that."
Little did he know, this would only be the start to his leadership journey. Over the past four years, Wicklund has been a part of many different FFA committees, and has served on the sophomore block team and chapter officer team, serving as sentinel for both organizations. He's also currently the head of the Events Planning Committee and one of the captains of the Woodbury FFA timber team.
Over this time, he's also come across many different people who have helped lead him to where he is today. 
"Literally everyone I've met in this school has helped me with this journey, like my ag teachers, and Mr. [Kyle] Brennan," said Wicklund. "My friends have encouraged me, especially Joe [Velky]. Every step of the way he was right there next to me saying, 'You got this Ryan! Don't be scared!' and, 'It ain't nothin'.' [Velky] helped me, and so did my chapter and sophomore block teams. Really anyone in my life has helped me get to where I am today, and I'm very thankful for every one of them."
Velky says all the credit goes to Wicklund.
"Ryan's drive, personality, and work ethic makes him an outstanding leader," said Velky, a fellow FFA sentinel. "Personally, he's motivated me and really pushed me to step out of my comfort zone [and] try new things, and I'm all the better for it. I believe Ryan naturally has these elements that make him an effective leader, and over our time in high school, he's been able to refine and perfect these skills, in the end making him a proficient public speaker and all around a team player."
Although a big chunk of Wicklund's inspiration comes from his teachers and peers, a vital piece of it comes from his father.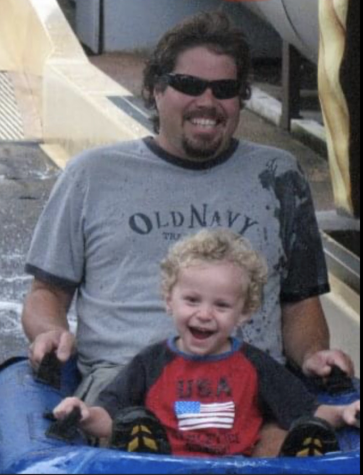 "My dad is my biggest role model," said Wicklund. "I love him. He's just taught me so much in my life and he's everything a good person should be. It's not necessarily that he taught me how to be a leader, but he taught me how to be a good person, and to be a good leader you have to be a good person. Therefore, with his help, he enabled me to become a good leader."
The help from the community around him, and the work that he's put in, has most certainly paid off. 
"Ryan has matured a lot over the years in his leadership abilities and skills, which I think has reflected greatly in how he runs different events and how he acts around other students," says Tom DiMarco, the landscaping teacher who's had Wicklund as a student for three years. "One of the biggest things I've seen is he's the head of the Events Planning Committee for the FFA. He takes it very seriously and really motivates the students in the committee to get involved, leading by example, and that's something that I think Ryan takes very seriously."
Over the past four years, Wicklund hasn't only impacted himself by bettering his leadership skills, but his positivity and encouragement rubs off on the other students around him.
"Personally, Ryan has gotten me involved in all of my success in the FFA," said sophomore Chloe Walsh. "He originally showed me and had me present the FFA Creed, and he also strongly encouraged me to join the timber team and apply to be a sophomore block officer. Ryan has also led me to go to many different events and meet different people. If I had anyone that has helped me in my role in FFA, it's Ryan Wicklund."
Not only does Wicklund encourage students, but his acts definitely don't go unnoticed by the teachers around him. 
"Ryan is definitely looked at as a role model in our ag community. I know a lot of teachers look towards Ryan as a role model in their class, as well as just being amongst his peers," DiMarco said. "He even started the Hoodja Ball Club, which again he really got students involved with and led by example. So he definitely has a positive impact in our school as well as the ag program."