Lighting Up the Holidays
Zack Hellwinkle, Nonnewaug's next entrepreneur, starts Christmas lighting business with fellow seniors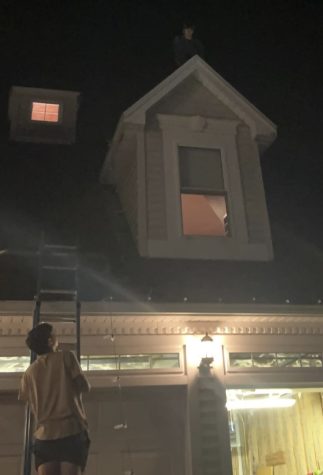 WOODBURY – Starting a business is a challenge on its own. Starting a business in high school is exceedingly more challenging. Even more difficult is creating a successful business with two of your closest friends.
Nonnewaug High School senior Zack Hellwinkle has done just that.
Hellwinkle lives and breathes business at NHS, taking almost every class offered by the school.
"It's my favorite topic to learn about in school," he says. "I want to major in something with business and marketing."
NHS marketing teacher Devon Bares has taught Hellwinkle all four years and says he's a pleasure to have in class.
"He's very motivated in class," says Bares. "He is very business-minded and has a great focus on his future."
Hellwinkle started a business, ZAB Services, with two of his friends in the winter of his junior year. They started off shoveling and snow-blowing driveways and walkways for people, and moved into house washing during the spring and summer. 
Their real success has come from Christmas light installations this winter.
"We actually found out about the idea on social media," Hellwinkle says. "One of us sent the post that day and the idea came to life."
Hellwinkle takes care of the marketing and customer service part of the company, using what he has learned from the array of marketing and business classes in his schedule. He draws up different designs for the customer at different price points and lets them choose exactly what they want to be done.
The team travels all over the state to install lights for customers and works hard for their satisfaction. 
"We've never had any unhappy customers," Hellwinkle says. "Even if someone is slightly displeased with something we've done, we always go back to make sure they are fully pleased with the job we did."
Co-owner Ben Shea has had a significant role in the business as well.
"We couldn't do this whole thing without Zack," says Shea. "Without all three of us, we wouldn't be able to succeed either. Everyone plays a vital role in the business."
Their business has come a long way, servicing more than 25 customers with lights for the holidays.
"They have come very far," says Don Hellwinkle, Zack's father. "I'm very proud."