Murphy's Addition Brings More Than Just a Jolt of Talent to Gymnastics
WOODBURY — The art of gymnastics is not an easy one to comprehend. The physical toll it has on one's body is unmatched compared to other sports. Nonnewaug senior Leah Murphy has been a gymnast most of her life. 
Murphy is known by her friends for her humor and her fun personality. Not only is she well liked, but she's also a top 10%-caliber student, member of the National Honor Society, an elite gymnast, and world traveler.
"She is always busy doing gymnastics," said Lux Calo, Murphy's close friend since preschool, "but when I am with her, she is so fun to be around. We always have the best time shopping and taking pictures."
Through all of Murphy's many attributes and skills, those who get to know her immediately appreciate her sense of humor. 
"She always knows how to make people laugh," said Calo. "That is one of my favorite things about her."
Murphy recently traveled to Paris and it was, in her words, "an experience that I will never forget."  
Some of the things she found breathtaking from her trip was when the Eiffel Tower would light up at night.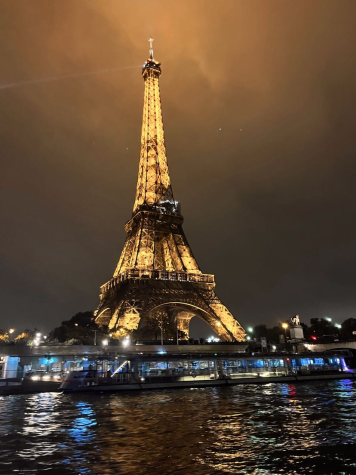 "Another interesting thing I did was see the Chateaus," said Murphy, "which are these big mansions in the countryside of France. It was cool to see them because I have never seen castles before."
Another aspect she found significantly different from America was the food and cultures they had there, noting the food was "fresher and richer than the food here in the U.S."  
Not only did Murphy do some interesting travel, but she is also starting her first year of Nonnewaug gymnastics after years of competitive club gymnastics. 
"I've been doing gymnastics since I was 3 years old," said Murphy.  
Murphy has been one of the top gymnasts in Connecticut for years. Recently, she was one of seven gymnasts to represent Connecticut at a regional level. She claimed that this was one of her "highest achievements in gymnastics."
But entering her final year of high school, Murphy wanted a change of pace.
"I am very excited for my first year of Nonnewaug gymnastics because it will be more fun compared to the seriousness of club gymnastics," said Murphy.
The Chiefs are glad to have such a talented athlete joining their roster for this winter season.
"We are all super excited to have Leah on the team this year," said senior gymnast Caroline Martinetto. "Being at the high level that she is at, she will do a skill that will leave the whole team in awe. She's definitely going to do so great and is an added dynamic to this team."