NHS Eagle Scout Remembers Fallen with POW/MIA Memorial
WOODBURY — Many have noticed a new black chair with a memorial plaque down at the football field. What is it for, and who made it?
This was made possible by the efforts of Andrew Grivner, a sophomore at Nonnewaug. He put time and effort into getting the chair for his Eagle Scout project. This is an important project because it gives the scout an opportunity to plan, develop, and give leadership to others. The rank of Eagle Scout is the highest rank a person enrolled in the Scouts of America, formerly known as the Boy Scouts of America, can earn. 
"I thought to do the POW and MIA chair because [Woodbury] is very focused on veterans and my dad always wore a POW and MIA bracelet," said Grivner.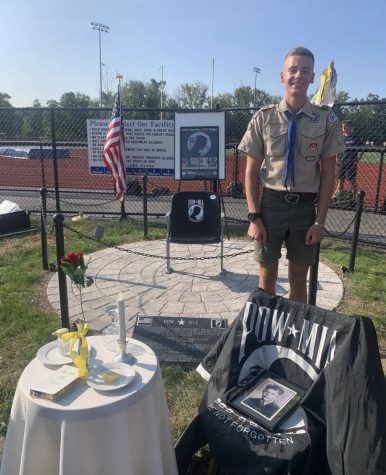 The POW (prisoner of war) and MIA (missing in action) chair is important to the school and students because there are students and staff that know veterans — and some may even know people who have gone missing or were captured during wars.  
The POW and MIA chair is meant to represent those service members who are unable to fill the chair because they were captured or went missing while serving the country — the ultimate sacrifice.
The chair also reminds people of the men and women who serve our country every day.
An Eagle Scout project can take a good amount of time; some take eight to 10 weeks, while others could take a year.
The process of getting the Eagle Scout project approved is a long one. The first step is to go to the troop's council to get approval. The next step is to go for approval from the beneficiary of the project. The last step is to go to the regional council to get approval. Once everything has been finalized, the scout may begin their project.
"The town of Woodbury has always had a ceremony, but never anything to represent [the fallen], and I choose the high school because there are a lot of young people here that will remember it and keep it going," stated Grivner.
Grivner hopes this Eagle Scout project will help the community honor and remember the POWs and MIAs of the United States of America. The empty chair represents those who can't be there with us.