Nonnewaug Culinary Program Hosts 14th Annual Senior Citizen Holiday Meal
WOODBURY — The advanced culinary class taught by John Dominello hosted its 14th annual senior citizen holiday meal Dec. 1. The class worked hard to get the meals ready to go for the senior citizens. 
As the continuous lines of cars filed into the parking lot, not only were seniors handed their meals, but they were also entertained by the Nonnewaug band and choir. 
"I've attended all of the holiday meals since maybe 2012 when my granddaughter Billee was in Mr. Dominello's advanced class," said Carol Ann Brown, a Board of Education member. "They are always so delicious and we seniors also love to hear the music and see the school."
It was also noted that the 2022 holiday meal was busier than the 2021 meal. 
"There were more people this year so we were able to prepare more food. We served a total of 135 people this year," said Dominello.
Prepped in the meal boxes there were seven items.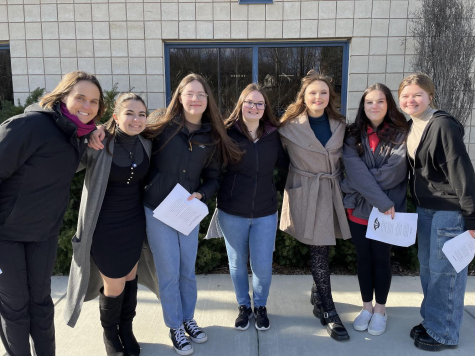 "We made pot pies, cranberry sauce, stuffing, gravy, apple streusel, carrots, and corn muffins this year," said advanced culinary student Dayton Griffin.
There were a few differences from last year.
"Last year we had no stuffing and the crumb on the top of the pot pies is different," said advanced culinary student Lauren Pabst.
One hundred thirty-five boxes may seem like a lot to get ready and prepare, but Dominello and his culinary arts classes have a system to get all the food ready on time.
"Its a matter of organization and then getting it done, so being organized is the key to it. We also involve the Culinary I class and produce from the Farm to Table class," said Dominello.
After yet another successful year of hosting the senior citizen holiday meal, the Nonnewaug culinary arts classes are looking forward to holding it again.
View this post on Instagram