Nonnewaug Swim and Dive Looks to Thrive in 2022-23 Season
WOODBURY — The Nonnewaug swim and dive team looks to breaststroke its way into a record-breaking season this winter after losing strong seniors.
Last year, the Chiefs swam their way to third place in the Berkshire League and had multiple athletes who racked up awards. 
"Last year, we had the strongest season in our program's seven-year history with the help of our strong senior boys," said Madelynn Orosz, senior captain. 
Collin Bootsma placed 11th at the State Open in the 50-yard freestyle and was the first-ever Nonnewaug swimmer to make it to the State Open meet. He also placed fourth in the 100 freestyle in Class S. Also in Class S, Chris Culkin finished 17th in the 50 freestyle and 18th in the 100 freestyle, while Aiden Barry finished 17th in the 200 freestyle and 20th in the 500 freestyle.
This triple threat of swimmers graduated last year, leaving this year's team with just one returning boy — but he had an impressive swim season last year. Kyle Viveros placed 10th in Class S for the 200 individual medley (and second place at BLs) and 10th for the 100 breaststroke (and third place at BLs). 
"I'm looking forward to competing and swimming as a team and as a team improving and losing time," said Viveros. "I have high hopes for this season and I believe we can swim fast this season."
Viveros will be joined by three freshman boys with a range of experience. The majority of the team, though, is made up of 16 girls who all have to compete against boys in the Berkshire League. This poses a challenge for the girls, who are always being compared side by side with the boys.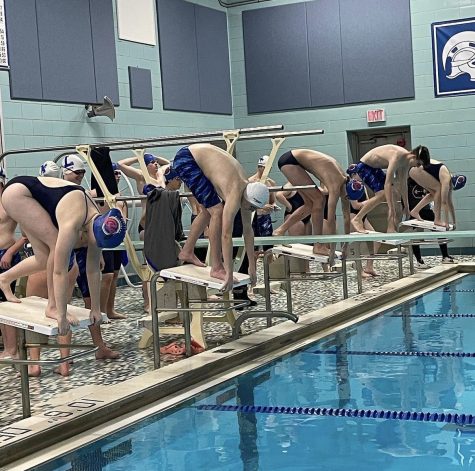 "I think it's a good challenge," said Orosz. "Boys are biologically stronger than girls, so having us against the boys helps us better our swimming and gives us an extra edge that we wouldn't get swimming in an all-girls season."
This tough in-season competition was deemed to be successful at last year's BL finals, where Nonnewaug placed second in the girls medley relay with Olivia Bernardi, Amelia Pillis, Orosz, and Julia Longoria.
Returning girls who placed top 10 at BLs include freestyler Bernardi, diver Sarah Walsh, freestyler Juliana Bailey, and butterflyer Orosz. 
During the all-girls Splash Classic, Longoria placed third in the 100 freestyle and second in the 50 freestyle while Orosz placed second in the 100 butterfly. 
This year Nonnewaug swim and dive looks to build off last year's success — strong returning girls such as Grace Walkup, Pillis, Orosz, Longoria, and Bailey will team up newcomers Emily Stewart, Grace Rubacha, and Bella Campis to score points alongside Viveros.