Nonnewaug Wrapped: How NHS Listened in 2022
WOODBURY — Colorful banners danced across the screens of Nonnewaug students recently as Spotify released the data of their listeners during the year, dubbed Spotify Wrapped.
Spotify Wrapped is a celebration of what users have listened to on the platform during the year. 
Spotify collects user data on what songs and artists their users listen to as well as how many hours of music were streamed, the top genres of the user, and even what their most played song is. 
Spotify tracks the listening data of their users from Jan. 1 to Oct. 31 to create their fun, shareable slides that can be found being posted to Instagram and Snapchat most commonly.
This year, Spotify released users' data to their homepages Nov. 30, days earlier than anticipated. 
Apple Music, a competitor to Spotify, does a similar event and released its review the same day. Apple similarly collected data on their music users to tell them their data, as well. 
With the release of the highly coveted data, students flocked to post their results. 
"I like seeing what people listen to [on Spotify]," said Vicky Koether, an NHS junior. "It's interesting because some people seem like they have a completely different music taste."
"Sometimes people's music taste doesn't match their personality and it's kinda shocking sometimes," said Kaylin Staffieri, an NHS junior. "You learn more about people; for example, my sister's top artist was Kanye West and I was surprised. You learn more about your family and friends."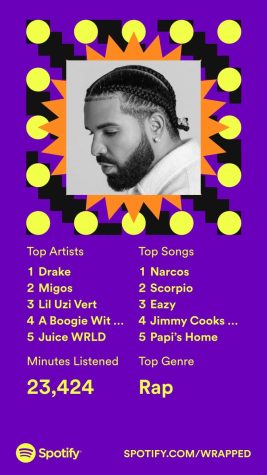 The reveal of the person's top artist can also spark conversation in group chats and around the cafeteria. 
"My top artist was Lil Peep; this was the second year he was my top artist," said Staffieri.
"Zach Bryan was my most listened-to artist; I'm not surprised. I love his music," said Koether.
"My top artists were Midland, a country band, and Twenty One Pilots, an alternative pop group," said Campbell Bologna, an NHS junior. "I'm OK with it because we are a mixed household and my parents and I are all big fans of these groups, especially Twenty One Pilots. My dad has been to so many Midland concerts, so our account has become our concert prep account."
A survey was conducted with 62 Nonnewaug students on their Spotify or Apple Wrapped data, revealing a glimpse into the headphones of the school. 
Ten of the 62 surveyed revealed Taylor Swift to be their top artist, and six of the 62 had Harry Styles as their top artist. Other pop artists like Olivia Rodrigo and Doja Cat also appeared multiple times. With these results, 52% of Nonnewaug had pop as their top genre.
Rock music made up 17.7% of Nonnewaug's listening with Queen, Pink Floyd, The Offspring, and OnOkRock being top artists for some students. 
Rap music made up 16.1% of Nonnewaug's listening with Eminem being the top artist for four of the 62 survey participants. Kanye West, Drake, Mac Miller, and Macklemore were prominent in multiple students' top spots. 
Country music made up 11.3% of Nonnewaug's listening with top artists including Zach Bryan, Morgan Wallen, and Alan Jackson being featured at the top of some student lists. 
Other top artists included 5 Seconds of Summer, The Weeknd, Gwen Stefani, and Baby Keem. 
Sometimes seeing how much music people listen to in a year becomes a contest.
"I had 116,941 minutes listened, higher than 99% of users," admitted Koether. 
14.5% of Nonnewaug students surveyed had 70,000 or more minutes of music listened to in 2022. 
This amount of listening can be contributed to a variety of factors like study sessions, sports practices, driving, and more. 
Music has been and will continue to be a key part of everyone's lives throughout the years, and students will begin looking forward to next year's listening data from Spotify or Apple Music.