Northwest United Makes History with Wins, Playoff Berth
WOODBURY – After finishing 10-1 overall this season, the Northwest United football team solidified its reputation as the Workhorses proceeded to their first state tournament, hosting Masuk for their first-ever state quarterfinal.
Even after a 46-6 loss to Masuk on Nov. 29, Northwest United still made history by just qualifying since this is only the second year of the co-op team's existence.
This success is all thanks to Northwest United, a co-op team that Nonnewaug athletes could not have accomplished on their own. The Northwest United football team consists of Litchfield, Shepaug, Wamogo, Wolcott Tech, and of course Nonnewaug.
Due to the fact that none of these institutions were able to field their own football team, the Northwest United squad, which consists of roughly 70 players, was formed.
"We are only a two-year program, so we don't have much of a history," Nonnewaug athletic director Declan Curtin said. "Based on the history of football in the Northwest Corner, it has been very difficult to qualify for the state tournament."
The Northwest United team being able to make a name for itself already is a good accomplishment that can go a long way. State tournaments are one of the most exciting experiences for a student-athlete, testing how far their team can advance while being challenged by new opponents.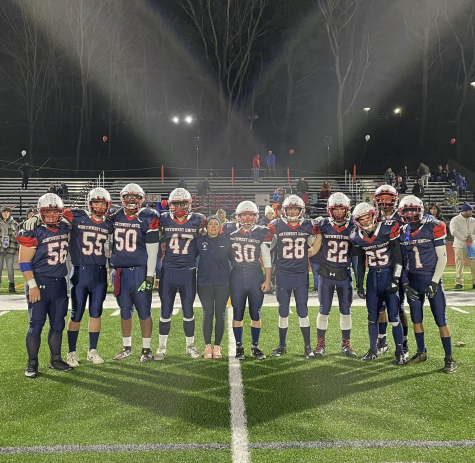 Now, the Workhorses will try to replicate the accomplishment next year. However, Northwest United will lose a good percentage of this year's starting lineup due to seniors graduating.
"I think we'll have another great season next year, but we're losing a lot of starters," said senior Sam Scott. "We have a lot of guys that are next up and ready to play."
Jennifer Garzone, the head coach of the team, last year became the first female high school football head coach in the history of Connecticut. Garzone's and the team's success was even recognized by the coach of the New York Jets, Robert Saleh, when he wore a Northwest United shirt at a Nov. 25 press conference and gave the team a shout-out.
Garzone got the team to the quarterfinals and she has the plan to do that for years to come
"Plans for the future of the team are to continue to grow and improve our offseason workouts and lifting," Garzone said. "We also look to remain competitive in our conference and to win a state playoff game upon qualifying."
Garzone played semi-professional women's football for 11 years. She knows her way around the sport, and students and staff are excited to see what next year brings for the future of the team. Northwest United has a lot of time to write its own story and make even more history.
View this post on Instagram