Sarandrea Sets Eyes on FFA Chapter Office
WOODBURY — A familiar face is seen around the Litchfield County ag scene. From local 4H club meetings, Woodbury FFA meetings, and local fairgrounds, Haley Sarandrea is always near.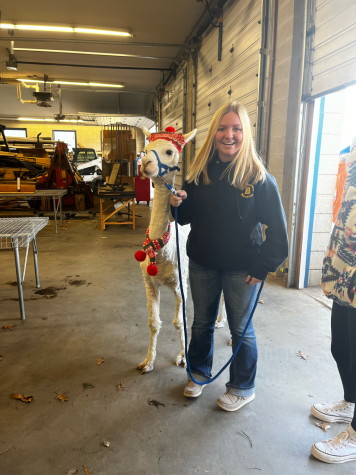 Known for her big smile, bubbly personality, and kindness, she has been built from the ground up by agriculture. 
Sarandrea got started in ag at a young age. She started with chickens, and from there, her love for all things living grew. 
"My interest really grew from there; I constantly need to be moving and doing something," says Sarandrea. "I've always been an active participant in 4H, which really swept me up and led me into applying for FFA here at Nonnewaug." 
4H is a national youth organization that promotes youth in agriculture, from plants to mechanics and most famously livestock breeding and showing, just another way to develop leadership skills.
Sarandrea has shown multiple species throughout her time in 4H, including beef cattle, chickens, and dairy goats.
Both her parents are in the Woodbury FFA Friends, Family, and Alumni group, which helps support the program through fundraisers and events. 
"Even when I'm not in school, a lot of my family focuses on this ag program," Sarandrea said. "My parents love doing it because they know that this is my dream. Helping my peers develop and make the program an even better experience is my parents' dream."
Sarandrea is an active ag member, but she is also a part of the girls lacrosse team. She has a lot of hobbies, from sports to agriculture and to spending time with family and friends.
"I'll be running to something after school, to lacrosse, to a 4H event, or having a summer job. It can definitely get stressful," says Sarandrea. 
She gives great advice to anyone feeling overwhelmed: "Sometimes I just have to take a step back and realize I'm doing this to better my future, and some things you enjoy take hard work."
One side of her personality traits may be serious and dedicated, but the other can be extremely outgoing and humorous.
"Haley is able to make everyone feel welcome and included, she just has that personality and it's perfect for sophomore block since she is very engaging," says Sam Kostka, who's also on the sophomore block team.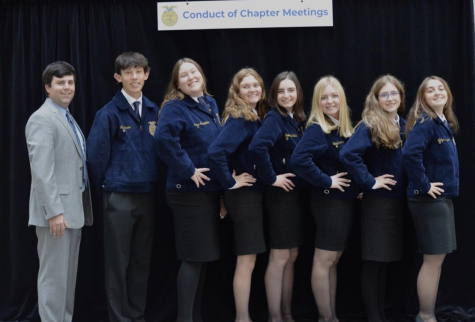 Not only is Sarandrea amusing and engaging, but she is constantly staying after school to plan, help others, and support the ag program. 
Kathleen Gorman, the NHS animal science teacher, has Sarandrea in class and notices her dedication to everything she participates in.
"She works tirelessly to plan events with her Woodbury FFA sophomore block teammates to create fun and learning for her peers," says Gorman.
Many teachers and peers at Nonnewaug might remember her older sister, Izzy Sarandrea. Although they may look alike and have similar interests, Haley views her as a person to look up to and exceed Izzy's accomplishments. 
"At first I saw what my sister did here at Nonnewaug and I thought to myself, no offense, but I want to be better than my sister," Haley said. "So honestly, I feel like this was my way of breaking out and becoming my own person." 
One of Sarandrea's favorite things about Nonnewaug's ag program is the ability to meet new people. Some of her closest friends come from out of the district.
"I think it's so awesome to be able to meet new people, especially to be surrounded by people with the same interests," says Sarandrea. 
Noticing how much she's enjoying her time in the ag program, it's natural to wonder whether she would even want to be at a higher level of the program next year. 
"Next year, I definitely see myself running for chapter (office)," Sarandrea said. "I know they choose your position, but I'm super excited and maybe take a step up to become president if it's something I'm feeling."