The Man Behind the Hair: Azem Frangu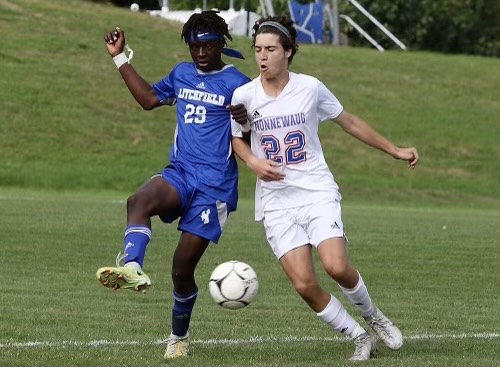 WOODBURY — Known for his hairstyle and his ethics, Azem Frangu is a positive influence taking his hair to the soccer pitch.
From a young age, Frangu was affixed to a soccer ball.
"Growing up in an Albanian family, playing soccer was a major influence in my life", said Frangu. "On my journey, I played for CT Rush, the Red Devils, and currently I take the field for Nonnewaug High School and Ajax Premier."
On his journey, Frangu made a positive impact on the turf, making a good impression on players who meet him.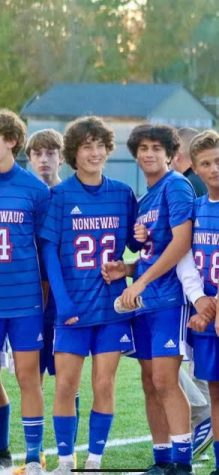 "The best part of Azem's personality is how funny and easygoing he is',' said Nick Higgins, a junior on the Nonnewaug soccer team.  "When Azem is playing, he is always trying to support the people around him by going with the flow, doing his best to make the right pass."
And with the right sights in mind, Frangu has already created bonds with his new teammates at Ajax Premier, where he has only played for less than a month.
"Azem is a great kid with a strong yet kind personality," said Alex Swider, a Lewis Mills student and teammate of Frangu's on Ajax Premier. "The work he puts in on the midfield motivates me to work even harder."
The work that Swider describes is rooted in the passion that Frangu has for the game. His passion comes from the undeniable feelings of joy and pain received when playing on the pitch.
"It was like an ecstatic rush of energy coursing through my body, as if I touched an electrical outlet," said Frangu, when describing his first goal. "Being a defender most of my life, the feeling of a goal didn't come often, yet when it did occur, the feeling was magical."
On the flip side of things, "injuries have always been the worst feeling in soccer, almost opposite the feeling when you score," Frangu noted.  "The feeling that you get knowing that your team is standing out there on the pitch and there's nothing you could do to get back on the field is daunting, although I do my best to keep it from bringing my morale down."
Even when he is on the bench, the impact Frangu continues to make is highly notable by his peers.
"Azem is always intent and tuned into the game even if he isn't playing," said Matthew Canonico, a junior teammate at Nonnewaug. "He always brings energy to the bench, supporting every player on the field by giving them info about defenders' positions, ball movement, and open runs."
At the end of the day, "Azem is always hyped to watch the games," said Higgins, "always supporting his team the best he can."