The Value of a Police Officer
WOODBURY — Police officers keep us safe, but who is supposed to protect them? Day in and day out, police officers risk their lives to protect strangers. When citizens run away from danger, the police have to run towards it. Some may need a reminder: What is the value of a police officer?
"I would say the value of having cops is to be able to feel protected, knowing that an unbiased person will come to help if you need it," says Justin Paradis, a state trooper who works at Troop C in Tolland. 
Nonnewaug principal Pam Sordi's husband, Stephen, was a state trooper for 21 years. 
"Police are essential in enforcing safety [and] laws and investigating crimes when they occur," says Sordi.
To others, police officers have more value than simply preventing and investigating crime.
"To me, the value of a police officer is being the bridge between the community and law enforcement," says state trooper Domenic DiNunzio, who works at Troop L in Litchfield. "A police officer should want to help educate the community and serve rather than be the iron fist of judgment."
Paradis made it clear that the world would not be safe without police.
"Another value is that [citizens] can, in most places, go out in public and feel somewhat safe," Paradis said. "In theory, police can deter crime from happening, or the fear of punishment deters them. If there was no fear of punishment for one's actions, the whole world would be like The Purge."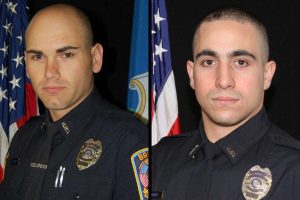 After Bristol Police officers Alex Hamzy and Dustin Demonte were killed in the line of duty Oct. 12, residents and officers were distraught. According to the New York Post, the pair responded to a fake domestic disturbance call and were gunned down in an ambush.
Their killings were not the first time an officer died in the line of duty in the state — Connecticut has lost three police officers in the line of duty in the last year and a half.
Sordi acknowledged the impact of the Bristol officers' slaying and how it relates to her experience.
"On a daily basis, I didn't really think about the risk factors [of her husband going to work], but when something like what happened in Bristol happens, it really hits home because that can be any officer at any time," Sordi said. "It really does impact those who have family members who are officers because there is always that 'What if?' when they leave for work."
In addition to the deaths of the Bristol officers, state trooper Brian Mohl died of blunt force trauma Sept. 2, 2021, after his patrol car was swept into the Weekeepeemee River, according to the Officer Down Memorial Page. Sergeant Mohl was checking water levels in the area because of the aftermath of Hurricane Ida when his patrol car was carried off the road and into the river. 
It is not an easy task becoming a trooper or a police officer. Not only do they risk their lives every single day, but it is a process to become one. To become a state trooper, recruits must endure six months of police academy training, which not all can or will complete. Why do officers become officers?
"The reason I wanted to become a police officer is because I have always wanted to be more than just myself. I want to help those who cannot help themselves," says DiNunzio.
"A core value a police officer should have is to be willing to sacrifice themselves in order to protect a complete stranger," Paradis concluded. 
Sordi leaves the community with an important message.
"When most people in society call the police for help, they are running from the danger," Sordi said, "but police have to run toward the danger."