Coppola Excels for Chiefs After Transferring from Gunn School
WOODBURY — Lots of people will eventually find the thing that differentiates life from just plain living; for Layla Coppola, sprinting down a field with a soccer ball on foot brightened even her youngest days.
"From the first day I touched a ball my coach said that I had something special, so I decided to continue with it and eventually tried out for a club team," Coppola said. "I moved up in rankings with that team and now I'm playing teams that are number one in the country." 
Throughout the year, Coppola advances her skill with her Select CT Rush teammates, but she hasn't always been a Nonnewaug soccer star. She played her first two seasons at the Frederick Gunn School in Washington before coming back home to Woodbury.
"It is always tough to transition back into a school even as a strong athlete," Nonnewaug girls soccer coach Nick Sheikh said. "Finding your niche on a squad and even as a leader can be challenging. Layla has transitioned well and she has the ability to continue to be a strong leader."
Last March, leaving the Frederick Gunn School was a choice Coppola made based on her future in soccer.
"I transferred because the school had a very strict rule on playing outside sports," Coppola says. "Since you have to play a sport every season, it wasn't going to work with my club soccer schedule, and that's when I decided to leave."
Even though her junior year was the first time playing with the Chiefs, Coppola soon realized it would be a great season.
"My first time playing soccer for Nonnewaug was a great experience," Coppola says. "The team was very welcoming when I played with them this year, and I created a strong bond with several of them that have helped me ease into a new school."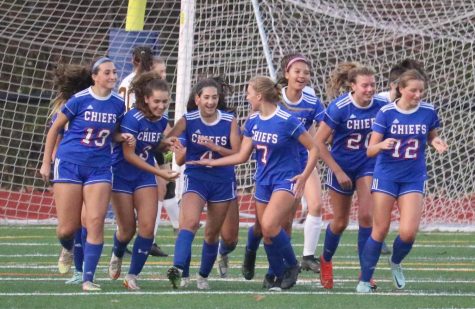 One of the bonds made presented itself right from the beginning with another returning junior, Gianna Lodice, her fellow center-midfielder.
"I haven't known Layla for that long," Lodice says, "but I'm so happy that soccer brought us together because I can happily say that she has become one of my friends."
Besides making new friendships among her peers, Coppola also worked to be made one of the five Nonnewaug students selected to All-State teams this fall.
"I feel really good about it, because it wasn't an individual award, it was the whole team," Coppola says. "I couldn't have gotten it without the rest of them supporting me the whole way."
Before her Nonnewaug soccer debut, Coppola's first focus was fitting in academically, and Marty Malaspina, her math teacher as a sophomore, agrees that she succeeded.
"She was great," Malaspina says. "She had a good understanding of the content, and even though she was in a new environment, she collaborated very effectively with peers."
While Coppola's main passion is playing soccer, and lots of her time is dedicated to practice, she also loves to spend time being in her favorite place: New York.
"The best thing about going there, especially when it's the holiday season, is walking around Broadway and seeing all the lights that they decorate the city with," Coppola says.
While Coppola continues to search for colleges that will balance academics and athletics, she and her teammates continue to look forward to next year's Nonnewaug soccer.
 "Playing center-mid with her all season was so fun," Lodice says. "I can't wait for our senior season."