Following Through or Falling Out: New Year's Resolutions
WOODBURY — The new year is a time for new beginnings. Not only do we all make half-empty promises to our future selves about the things we plan to do this year, but some of us have enough optimism to believe we will maintain our aspirations as the clock strikes midnight.
According to our students here at Nonnewaug High School, New Year's resolutions are something to look forward to.
"New Year's resolutions are a good idea as well as goals," says Gianna Lodice says, a junior. "Believe it or not, they are actually two different things. A resolution is deciding to do or not do something in the new year, and a goal is deciding something you want to accomplish. So I value both of those things as we adventure into a new year."
Lodice was persuaded by her father to continue on a "healthy eating kick" into the new year in hopes of maintaining a healthy body. Lodice is still inspired to complete these goals her family has pondered.
"One of my resolutions this year is to cut out unhealthy foods a majority of the time," Lodice explains. "Obviously they will sneak in sometimes, but I want to try as much as possible not to eat anything bad, especially with track season picking up soon."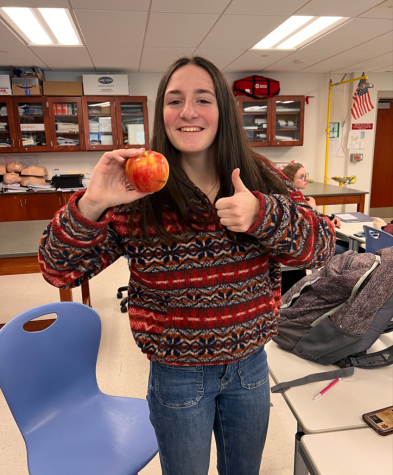 Now, a few weeks into the new year, Lodice confesses that she hasn't been keeping up with the new resolution as rigorously. However, she's not too worried about it at all.
"For the most part, I've been keeping up with it," Lodice said. "I did have some coffee cake over the weekend and maybe a few pieces of chocolate, though. It was a family gathering, so it's not the end of the world."
Despite students at Nonnewaug feeling a certain way about New Year's resolutions, facts point towards people outside the community feeling differently in regards to new years resolutions. 
"I think New Year's resolutions are somewhat pointless," said Sofia Daddona, junior at Westover School in Middlebury. "I think it's just a fad that people like to participate in to say they did. A more realistic way to set yourself up for the New Year is to create intentions and goals. The word resolution means 'a firm decision to do or not to do something,' making a strict goal may make it hard to follow. I think it is much more realistic to set intentions for your year rather than a resolution."
Although she doesn't subscribe to the idea of resolutions, Daddona herself has opted to create goals for herself to accomplish throughout the year.
"Instead of resolutions I created goals and new intentions for my year," Daddona explains. "I set academic, athletic, and personal goals that are not necessarily easy, but they are set in a way where I can work on them step by step and feel accomplished."
So far, Daddona has held up to her word about completing her New Year's resolution. In continuing to accomplish these goals, she hopes that the motivation to complete this goal will last throughout the year.
"I have been able to take small steps in the past week in order to move closer to accomplishing my goals and adjusting my intentions," Daddona said.
As people continue on into the new year, we will only see how many of us keep up the promises we made to ourselves at the beginning of the year. For some of us, it will be a memory we leave behind in January 2023.