Hamlin's Injury Raises Questions for Local Sports: Are We Prepared for the Worst?
Athletes know what they're signing up for when they play any contact sport, and for Damar Hamlin, his worst nightmare occurred when the Buffalo Bills played the Cincinnati Bengals in a high-stakes game Jan. 2 on Monday Night Football.
The Bills safety came up to make a tackle on Bengals receiver Tee Higgins, got back to his feet and collapsed to the ground due to cardiac arrest — his heart stopped beating.
Athletic trainers and first responders rushed to administer CPR and used an automated external defibrillator (AED) to revive Hamlin on the field before he was transported by ambulance to the University of Cincinnati Medical Center. Even though his heartbeat was restored, he still couldn't breathe on his own.
The NFL soon canceled the game, which was the first time the NFL had canceled a non-strike-related game since 1935 — and those cancellations were due to bad weather.
Despite Hamlin making incredible progress — a week later, he was discharged from the hospital back to his home in Buffalo — many fans know this situation could have played out way worse if the medical staff didn't do their job perfectly.
But the NFL has nearly unlimited money to spend on protecting players with equipment, medical personnel, and rules. How can high school sports protect their players in the same situation?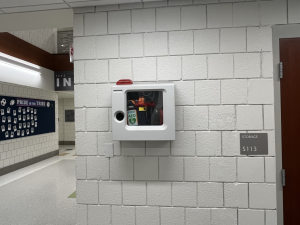 "We have an emergency action plan, and I update it every three months," said Nonnewaug athletic trainer Sean McGee, who coincidentally is a Bills fan. "I try to practice by myself before the preseason as much as I can so I can be ready for any specific situations like that so I can do the proper steps and not panic."
Nonnewaug athletic director Declan Curtin said the Hamlin incident brought back bad memories, but he feels confident in having McGee at the Chiefs' practices and events.
"Watching the Hamlin injury live was hard for me because I've seen people being worked on [with CPR] in the past," Curtin said. "I'm really proud that we have an incredible athletic trainer in Sean McGee, and we have definitely practiced this with our emergency action plan that has been written out by Sean on what to do and who needs to do what and our responsibilities."
The AED machine was one of the most important pieces of equipment used to save Hamlin's life on the field. Over the past few years, Nonnewaug has brought more to campus.
"When I first started working here, we had one AED machine; now we have five across the school," said Nonnewaug nurse Sandra Snabaitis. "Our school resource officer, all administrators, and myself are all CPR-trained, [and] some [staff members] are even trained, so in case of any cardiac event, we would be prepared for that."
Nonnewaug staff members feel as though they are prepared for the worst. Aside from an AED, the school has other tools that it can use to help in a cardiac-related emergency when life and death can come down to time.
"A lot of this comes down to timing and being at the right place at the right time," said Curtin. "It's something we are always trying to improve, and something that really helps is the golf carts. If we were at the field and we needed to go to the gym, we need to get there as soon as possible. We try and think of these things, and we are never comfortable being okay with our plans because there's always room to improve."
During a game for Northwestern United football team this fall, McGee was called to action to not help a player but rather an official.
"We had an official working the chains at our football game this past year; I was taping up a player's ankle and I got called to the sideline, [where] the official who was hired by the CIAC passed out on the ground," McGee said. "He was OK but had a low blood pressure and pulse. We got him back up and he passed out again. We got him in the cart and brought him into the ambulance. During my career, I have seen more major problems with officials and fans than actual players on the field."
There's one more key tool that Nonnewaug has to help in case of emergency that many other schools don't. According to a 2019 study by the National Athletic Trainers Association, one in every three schools don't have an athletic trainer. McGee feels that statistic is unacceptable.
"Every school in America should have an athletic trainer," McGee said. "Coaches are certified in CPR, but most of the time it's something else besides that that can cause issues. We can do a little bit of everything so we can always try and provide for any situation that occurs."