Interest in Cornhole Sparks New Team by Accident
WOODBURY — It all started in the halls. What was a simple get-together quickly turned into a sport at Nonnewaug High. 
"One day I just brought in our firehouse [cornhole] boards, started playing after school and it just became a thing," said social studies teacher Kyle Brennan.
That's it – that's all it took for this team to get up and rolling. Now, Nonnewaug cornhole has turned into a full-fledged school club.
In the fall of last year, Brennan decided to set up the cornhole boards in the NHS hallways for some healthy competition.
"I was impressed at the fact that everyone wanted to get better at cornhole," said Brennan, the Cornhole Club advisor, "and they accepted my coaching."
Sooner or later, more and more students joined Brennan after school. 
"The kids enjoyed it and it's a popular rec sport," said Pam Sordi, principal of NHS. "There's even a more competitive league, the American Cornhole League, so it's becoming a popular thing. If there is an advisor who wants to oversee it, then it's a great idea." 
Sordi thought it was a great idea for friends to get together and have healthy competition after school.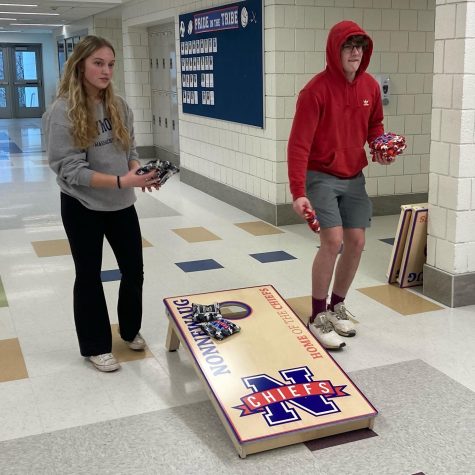 "I wanted to join the cornhole team because I thought it would be a lot of fun," said senior Carley Shook. "I always enjoyed playing it at family picnics and I thought it would be cool to get good at it."
Most students stayed after school because friends were there. Their friends soon became competitive as they returned every two days of the week to compete against each other. 
"I joined the cornhole team because it is something I really enjoy," said senior Ben Faraci, "and I also get to see my friends and the competitive side of them."  
The love for the game of cornhole didn't just begin in the NHS hallways. Faraci started to compete outside of the hallways of his high school before the team was made. 
"Every once in a while I will go to tournaments on the weekends to compete," Faraci explained.  "It's a great way to meet new people and face new competition."
Faraci hasn't been to many out-of-school competitions but he plans on going to more to become better this year.
Cornhole is becoming very popular, but with the majority of the team being seniors this year there is some worry that there will not be enough competition in the following years. Sordi said that clubs at Nonnewaug can continue as long as students are interested.
"It totally depends on student interest," Sordi explained. "If there is enough interested participation, then absolutely." 
With few underclassmen a part of this team, the hope is to expand and get the word out there more for others. 
Brennan's cornhole doesn't stay in the halls of NHS; however, the boards have shown up to all kinds of sporting events as well as class get-togethers.
The main sport it has had its spotlight on was football in the fall. Between watching the games and spending time with friends, students often got involved with cornhole on the side.
"It tends to bring people together, [and] it's not physical so no one is getting hurt," Sordi said. "It even gets schools together. Even at football, other kids from other schools join in. I didn't expect it, but it has grown to be something the kids like at NHS."