Life of the Overlooked: Chase Heidorn
WOODBURY — "Honest, works hard, cares about his peers, and generally an all around good kid," says Ryan Campanario, a gym teacher at NHS, when asked about sophomore multi-sport athlete Chase Heidorn. 
While teachers look at Heidorn as having these qualities, friends such as Brayden Whipple, a freshman, shared a siimilar outlook on Heidorn. 
"Funny, welcoming, helping," says Whipple.
Heidorn's freshman year consisted of finding an SAE (supervised agricultural experience) compatible with lacrosse and football. While Heidorn has not found an SAE yet, he has found an interest in a fish hatchery.
"But really anything ag-related will do," says Heidorn.
Heidorn is interested in agriscience, but his more entrenched love is for the gridiron.
"I was 5 [when] I fell in love with the sport [of football]," says Heidorn. "I was never really allowed to play [on a team] until high school."
Towards the end of the lacrosse season, Heidorn suffered an injury to the inner thigh. He was able to play his football season following the lacrosse injury.
Heidorn plays running back, linebacker, and long snapper. During Northwest United's 10-1 season, Heidorn saw an increased role.
"What changed for my running back position is more varsity reps [playing time] than when I was a freshman," he said.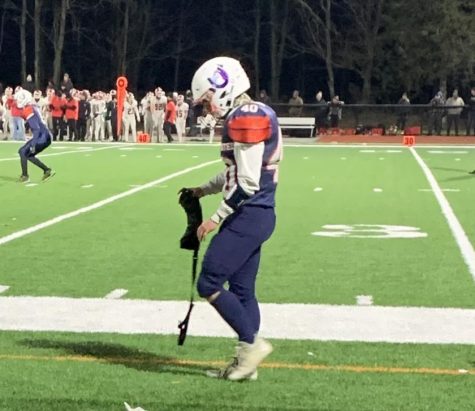 Kids from around the Valley area come to Nonnewaug to expand their agricultural knowledge. Having many different class types to choose from, each kid can find what they're looking for. Heidorn found that here.
"The reason I came to Nonnewaug was for vet science and more hands-on learning," said Heidorn.
Being an out-of-district student, Heidorn is confined to an hour-long bus ride home to Naugatuck. While many would believe this to be a hassle, friends of Heidorn say he makes the ride a fun time.
"My favorite memories with Chase are bus rides this year," states Whipple. "It's a comedy show the whole way home and he always brightens up the mood."
Continuing his second year in NHS, Heidorn has proven to be a strong student, and many of his peers and teachers agree.
"Chase is a model student. He is a very helpful guy no matter what the task is," says Whipple. "Whenever someone needs help with something he's always there for you."
"He does everything he is asked for," says Campanario. "He's a hard worker [and] he participates in class discussion — all around a model student."