Malaspina's Winning Streak
WOODBURY — When spectators entered the Ed Sadlon Gymnasium during the fall of 2014, they'd notice something missing from the walls. The gym walls don the accolades of Nonnewaug's most celebrated teams, but that same year — Marty Malapsina's first year coaching — not a single volleyball banner hung. The team, despite decades of existence, had yet to claim its first league title.
That all changed shortly after Malaspina took over.
Malaspina has been a coach for nine years at Nonnewaug; he started playing in his college years then was active in adult leagues, but his love of the sport began at an early age. 
"My cousin played in high school and I watched one of her matches and she sparked my interest in the game," Malaspina said about his experience with starting his journey in volleyball. 
By the turn of the last decade, Malaspina, relatively new to the sport, decided to hone his craft. The future coach attended multiple clinics and classes so he could prepare himself to run his own high school volleyball program. Here, Malaspina picked the brains of fellow high school and college coaches, gathering the ingredients he'd one day put to use in building Nonnewaug into a perennial contender.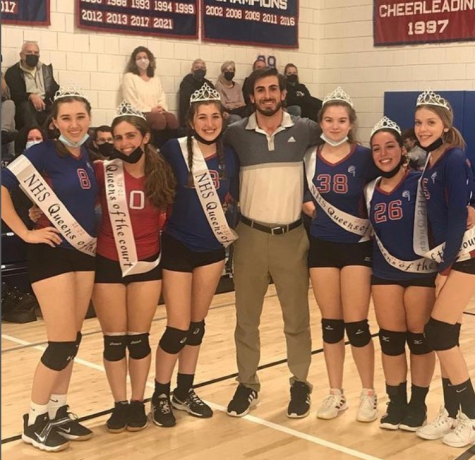 Malaspina prepared for the job so well that Nonnewaug claimed its first Berkshire League title during his first year of coaching in 2014.
"Coach Mal was always encouraging and wanting the best from me," said Maggie Keane, a junior who will be next season's team captain. "He really drove my passion for the sport."
Along with collecting many titles after the initial 2014 championship — crowning more championships in 2015, 2017, 2018, and 2019 — the team also made it to the quarterfinal round of the state championships twice in 2018 and 2022, all while Malaspina was coaching. 
"He has pushed me to be the player I can be," senior captain Mackenzie Pfahl said, "and was supportive in all aspects." 
After the season, he doesn't stop supporting his players as he utilizes the high school weight room to help. Weightlifting and beginner plyometrics are taught by Malaspina to increase players' abilities, like vertical leap and core strength. Players are given a workout sheet they can reference to meet their fitness goals beyond the court.  
Athletic competition is very much in Malaspina's DNA. Volleyball isn't his only sport; he is also an avid golfer and spends most weekends in the spring and summer on the greens. 
"I like playing with him because he knows golf, and he can really analyze your golf swing very well and communicate about it," said friend and colleague Toby Denman. 
"From a very young age I had an interest [in golf], but only started playing seriously after college," said Malaspina. 
Whether on the fairway or up at the net, Malaspina is driven by competition. He's a well-respected faculty member in the math department, turning almost any activity into an educational competition, making games out of geometric equations or finding unique ways to bring math to life. 
"Malaspina is definitely a competitive person," said Keira Buckley, 2022 graduate and former middle hitter on the volleyball team. "It definitely helps with making the team work."