Pre-Holiday Spirit Week Another Successful Venture by Events Committee
WOODBURY — Sure was a busy weekend for those elves!
Nonnewaug students were greeted with holiday cheer approaching the final week before the holiday break. Snowflakes, garland, and festive paintings decorated the main lobby to kick off winter spirit week.
The winter festivities were sponsored by the Nonnewaug Student Events Planning Committee to great success. 
Monday kicked off the festivities with holiday attire. Students roamed the halls in their best holiday pajamas, socks, hats and other apparel. Tuesday was ugly sweater day, the highlight of the week. The contest got competitive, per usual Nonnewaug spirit.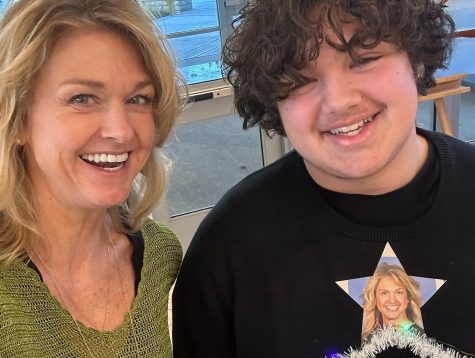 "Ugly sweater day worked out nicely because the classes of 2025 and 2026 hosted an ugly sweater decorating day the day before," said Tricia Brown, the club advisor. "Other clubs wanted to get involved, and it got people working together."
Thirty-three participants entered the contest with a range of homemade and store-bought creations. There were three prizes of Amazon gift cards, including the top prize of $75 won by freshman Boe Stokes.
Wednesday was New Year's resolution day. Students and staff were given stickers on which to write their resolutions. 
"New Year's resolution day was thought of by Maddie Innes," Brown said. "Every spirit day was voted on by the club and planned by the club. I'm glad it's becoming more student-oriented."
Thursday's theme was a white-out. Many people showed up to school wearing white outfits to celebrate being one step closer to break. Friday was intended to include winter attire such as ski jackets and snow pants, but due to the closure of school for bad weather, the spirit day didn't occur. 
"I think it is important that we do these spirit weeks because it's a way for us to come together as a school community for a common bond. It adds fun and excitement to the week," said Brown. 
"We hope it made the last week before break more fun and exciting," said Jamie Paige, a member of the club.
Between the four days of festive fun and the surprise cancellation of school, the week was a memorable success for the Student Events Planning Committee.
"It can be difficult to come to school that last week, but having spirit week encourages kids to attend and have fun with it," Brown said.
The next spirit week is set for Feb. 6-10, which will culminate in the annual red-out and pep rally Feb. 10.