Small in Numbers, Big in Heart: Nonnewaug Gymnastics Overcomes Obstacles to Compete
WOODBURY — Nonnewaug gymnastics has struggled with its numbers for a few years, but what the Chiefs lack in numbers they make up for with talent and hard work.  
Consisting of six gymnasts this 2022-23 season, Caroline Martinetto, Leah Murphy, Emily Crawford, Kylie Sherwill, Veronika Nicholas, and Izzy DeForge. The group collectively hasn't been deterred by its size. 
Not only does the team face the challenges of a small number of members, but they also have off-campus practices and no bus to get them there unless it's a competition, so team members have to provide their own transportation to practice. 
All teams who practice off campus are required to provide their own transportation due to budget constraints. Teams that also face these transportation challenges include golf, lacrosse, hockey, and swimming. 
"If we gave one team a daily bus to practice, we would have to do it for all the teams, [and] the cost would be through the roof," said Declan Curtin, Nonnewaug athletic director and dean of students. 
"Driving to practice can be quite taxing," said Crawford. "I've definitely found myself having to go to the gas station more frequently as the season has started."
Gas prices and equipment can be very expensive and the gymnasts have to be committed to the costs that come along with the sport. 
"It's a lot of money to spend on a sport and a big responsibility," said Martinetto, a returning senior gymnast. 
Some seniors have positive opinions about the freedom of driving themselves. 
"I like it because I have my license and I can stop home or get food," said Murphy.
With all the struggles of transportation, the team is committed to putting in the hard work to compete, evidenced by a third-place finish in competition at the Gymnastics and Cheerleading Academy in Fairfield. 
"I'm most excited to have some of my close friends joining the team and having one last season," said Martinetto, who's in her fourth year competing for NHS. 
Considering the gymnastics team has one of the longest tenured coaches leading the team, they continue to look very promising this year with all the talent and the fact that senior Leah Murphy, a talented former club gymnast, joined for her final year. 
"School gymnastics is a lot more relaxed than club, which makes it a lot more fun," said Murphy, who previously only competed at the club level. "It also doesn't take up as much time, which allows me to go to other school events or hang out with friends. I'm excited to compete with the team."
The seniors are very competitive this year and all have something to bring to the table.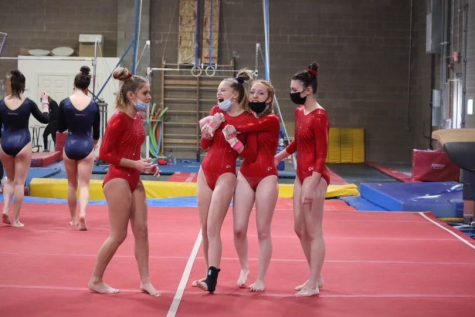 "I would say that my strongest event would be vault," said Crawford, "but one of the things I don't like about it is that it can be difficult setting up the run for it. If you don't get your steps perfect, the whole vault could be messed up."
Not only is Crawford strong on the vault, but Martinetto and Murphy bring variety with strengths in the floor routine and the beam.  
The lack of numbers creates a tight bond between the girls. 
"Since it is a smaller team I would say we are all close," said Murphy.

With members responsible for their own transportation, one way the seniors help support the underclassmen is driving them to practices. That means lots of time to bond while carpooling. 
"I always try to include the underclassmen and make them feel welcome," said Crawford. "I remember how intimidating it was when I started freshman year, so I want to make the underclassmen on our team feel as comfortable as possible and have fun."
The close bond and support felt throughout the team is what drives them all to compete and do their best. Whether on the beam, on the vault, or in the carpool lane, this year's squad will be remembered by their heart — and not their numbers.