Students and Staff Soak in History of Newport
WOODBURY — The history throughout Newport, Rhode Island, made the Nonnewaug's Nov. 21 excursion students' and staff's favorite field trip so far this year. 
"The kids loved it," said Jessica McKay, the English department chairperson who organized the trip. "At first I think they were kind of unsure, especially if they've never been there before, but once they're there, it's like this eye-opening, incredible experience."
McKay has been on the field trip three times over the years and loves going. For those who enjoy history and learning about culture in early America, she recommends coming along for the next trip.
"It was a great learning experience, but also enjoyable to see and visualize the history of old towns," McKay stated.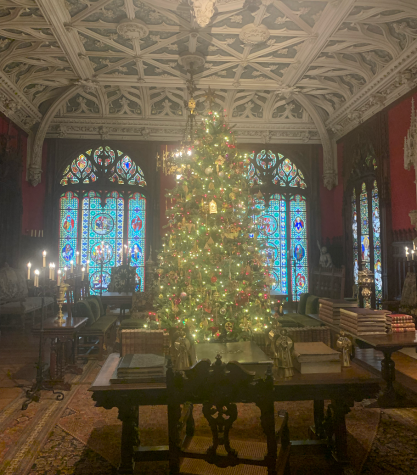 Newport's mansions, which were decorated for the holidays, can be linked to the Gilded Age of the late 1800s and famous works of American literature, like The Great Gatsby, which tie in the academic pieces of the trip.
"Every time, it's such an amazing experience for kids to see 100 to 200 years ago how people lived," said McKay.
It was also a great way to make new friends on the two-hour ride there and back. Alexa Sweeney, as an example, enjoyed the sights and spending time in new surroundings. 
"I didn't really know anyone or anything about Newport, so I was just going for my benefit," Sweeney said, "but I did end up meeting new people that I thought I would never talk to."
Students thought it was amazing to see the historical aspect of things, looking at buildings that now look antique, but in reality they were the finest architectural buildings of that time.
"My favorite mansion was the Marble House," Sweeney said. "I loved it because it was interesting to me seeing how the upper class lived in the [1800s]. Not only that, but I loved the art inside and the fact it has a fireplace in every single room."