Bellagamba: Nonnewaug Should Host the BL Track Championships
WOODBURY — Track and field championships are the highlight of any athlete's career, providing a platform to showcase their skills, determination, and hard work.
The Berkshire League, one of the smallest leagues in Connecticut, hosts the annual track and field championships at Litchfield's Plumb Hill Field Complex. But in reality, is Litchfield really the place to hold the league championship?
There's a long history of the league being consistent with its championship site.
"When I first started coaching track 28 years ago, it was at Lewis Mills every year," said head girls track and field coach Arleigh Duff, a 2020 finalist for National Coach of the Year. "Then it got moved to Litchfield. It has only been at these two locations. One year it was at Thomaston because of COVID."
As the championships have usually been held at Litchfield in recent years, is it time for a change in location? 
Nonnewaug's outdoor track facility far exceeds all the other schools in the Berkshire League.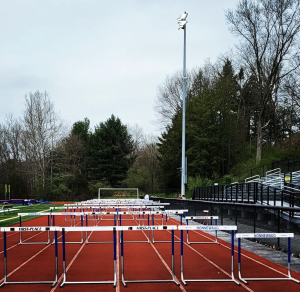 "Our facilities are much more updated and convenient than Litchfield's," said junior Gianna Lodice, the 2022 BL triple jump champion. "We have bathrooms right next to the track and all the field events are close by, and there is a lot more parking. I think it just makes a lot more sense."
With nine schools in the BL, championship events need to account for nine different teams and account for their fans. A normal meet consists of three teams facing each other, but BL's is all nine teams together competing at once.
Since it's a championship, host sites can expect multiple fans accompanying each athlete. Nonnewaug recently updated its parking facility by paving a large parking lot close to the track. Now being able to hold more cars than ever, Nonnewaug is ready to host.
The parking is not the only advantage Nonnewaug holds over Litchfield. The bathrooms are another factor in this case. Track meets are not short in general, ranging from anywhere between three to four hours.
With there being nine teams (every team has both a boys and girls team) competing in 12 running events and seven field events (both potentially having multiple heats for each event) the championship meet can last six to seven hours. Litchfield offers port-a-potties a distance away while Nonnewaug has bathrooms 20 feet away. 
If the parking and bathroom situations were not enough to be fully convinced that Nonnewaug should be the school hosting the Berkshire League track and field championships, then maybe the seating situation would seal the deal.
"We have more seating than them," said sophomore Ellie McDonald. "It just makes more sense to have it here."
Nonnewaug has two larger-size bleachers at the track and field area that together can hold roughly 500 spectators. That is about 500 more bleacher seats that the Litchfield facility has to offer. At Litchfield? Bring your own blanket and get comfortable sitting on the grass. 
Nonnewaug athletic director Declan Curtin said the league has multiple factors it needs to consider when choosing championship sites.
"The athletic directors in the Berkshire League spread out where the tournaments are held based off on capacity and based on the quality of the facilities," said Curtin. "It has been deemed by the league that Plumb Hill is a beautiful facility and has a nice track, and that's where it should be held."
Nonnewaug has a convincing case. New facilities. Easy access. Welcoming accommodations. Could the future of the tournament call NHS its home? 
"I would love to have it here," Curtin said, "but I don't think everyone else in the league would appreciate that because of the unbalanced tournaments that they don't get to host."
This is the opinion of Chief Advocate sports reporter Julianna Bellagamba.