Hoover's Rise to Fame Lands TikTok-Fueled Author in Film
Colleen Hoover will break your heart and trample it a thousand times before giving it back to you and demanding a five-star review — and without question you will give it to her.
Hoover, the phenomenon whose books grew in popularity over the use of TikTok, quickly rose to the top of people's to-read list. Hoover now has more than 1.3 million followers on the app, but why is she so popular?
"There's always something going on that makes you not want to put down the book," said Bianca Gracia, a Nonnewaug senior and fan of Hoover.
Hoover instantaneously became an internet sensation during the year 2020 with her 2016 novel, It Ends With Us, which is now currently in the works to move up to the big screen.
On TikTok, Hoover shared a video in the house where her mother brought her, which holds special memories for her and inspired her book. 
"This was the house that I grew up in and lived in from the age of probably 4 to 18," said Hoover on her own TikTok page. "I just want everyone to know how much I appreciate my mother who got us out of a scary situation when I was little and brought us here to this house, which doesn't look like much, but this house was full of love and joy."
It Ends With Us, although written in 2016, took off via TikTok in 2020, so it was only fitting she shared why this book meant so much to her. 
"So thank you, Mom, for making that very difficult decision," Hoover continued. "This house holds nothing but wonderful memories for me because of her."  
The book brings awareness to domestic violence, something close and personal to Hoover. She grew up in a household with domestic violence, and her mother, to whom Hoover dedicated the book, removed her from that horrible situation.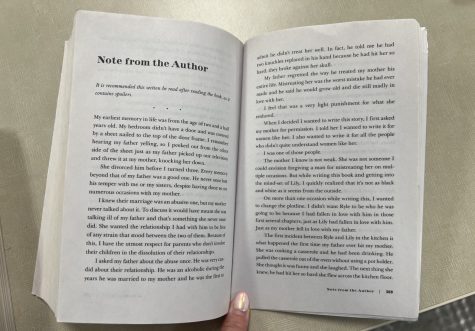 The story follows the main character, Lily Bloom, as she attempts to break the cycle of abuse in her family. In the upcoming film adaptation, Lily will be played by Blake Lively, one of Hollywood's most promising stars. 
"Blake Lively, y'all, she is my dream Lily," Hoover stated in her recent TikTok. 
Justin Baldoni, the mastermind director, will play Ryle, one of Lily's love interests in the book. 
"I'm excited to see the overall story being put into a movie, as well as Blake Lively and Justin Balding bringing the characters to life," said Gracia. "When I was reading the book, I had put an image in my head of what was going on, so that is also exciting to see what Colleen is going to show throughout the movie."
Despite Hoover's growing popularity, which stemmed through the #BookTok subculture on TikTok to promote her book, she wasn't always this powerhouse. She went from a self-publishing rookie to bestselling professional.
The superstar became TikTok's favorite writer, selling 8.6 million print books in the year 2022 alone. She was nominated to the USA Today Best Selling Books list week after week during that same year. 
Hoover's typical romantic fiction novels catch the eyes of more girls than guys, but is not limited to just the girls. Nonnewaug senior Max Wolff picked up one of her books and couldn't put it down.
"My girlfriend picked one up from the book store for our vacation and I said I would read one with her," said Wolff. "I wanted to read the book because it seemed like a more appealing way to get back into reading. Everyone knows it's beneficial to read, and reading something trendy and fun [and] relevant to teenagers makes it far more enjoyable."