Comerford: Mechanics Students Graduate with Knowledge in Potential Careers
WOODBURY — The Nonnewaug high school agricultural mechanics course graduates students into the real world with skills that give them an advantage in the mechanics industry.
In this class, students learn many important skills, including how to rebuild motors varying from single cylinders to four-cylinder farm tractors. Students will also go through a welding course while also studying a short electrical unit to gain skills that are later used on their own piece of personal equipment. 
The skills developed in agricultural mechanics aren't just important. They're vital. 
I find it's very important to gain these skills at a young age while also being able to learn core classes all in the same place. 
In comparison to a traditional academic high school course, the work experience and the education gained in this program is a solid standard for life. 
"The biggest thing that I think I learned," says Andrew Zielinski, a Nonnewaug graduate and current ag mechanics teacher, "was just taking my time to work through a problem on a piece of equipment. Having a basic understanding of engine diagnosis and welding really helped to give me a head start in my major at SUNY Cobleskill."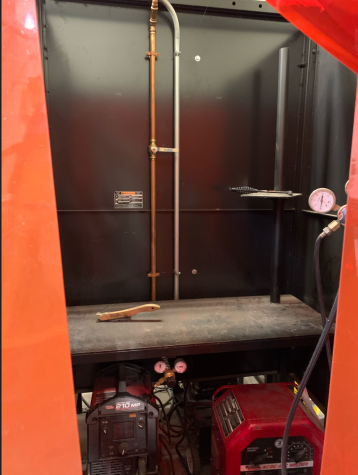 Taking this course can really help students gain an introductory understanding of mechanics, equipping them to start a future in an engineering field. 
I have found during my time at Nonnewaug that the longer you're in these courses, like mechanics for example, the more chances you're given with getting a job because of the knowledge you gain. 
With my experience from this school I have gotten a few jobs over the years, one of them being at Keyless Auto, an automotive shop. I use skills we were taught and still being taught while working on people's cars. The knowledge from this class actually tends to help kids in many different ways. 
"My thought process has been different when I approach a mechanical task," said Alex Gibbons, a junior at Nonnewaug.
Gibbons uses what he's learned in our class to rebuild small dirt bike motors and work on his boat. 
Taking this course tends to help students approach situations with more confidence after learning most things they will need to know through the different units. The content in Nonnewaug's mechanics course is wide-ranging. Typically there will be a small engine unit, a welding unit, and a farm tractor engine unit for the junior/senior classes, as well as a surveying unit. 
During the small engine unit, students will learn how to completely disassemble a garden tractor engine that they have brought in for themselves. The process of learning engine components is a good facet to learn because it may be cheaper in some cases to rebuild an engine rather than to buy a new one. 
That is a unit that helps prepare students if they plan on going into strictly motor rebuild mechanics or general maintenance like an automotive shop. 
This course continues to go over many different types of welding, including stick welding, which is basically welding with a rod. MIG (metal inert gas) welding, which is welding with a wire-fed machine, is also covered. The wire gets fed out of the handle as you keep close contact with the metal. TIG (tungsten inert gas) welding is also taught; this is a type of weld that is used on aluminum, gold, aluminum, brass and other metals.
These skills are good to have because it opens up many job opportunities that utilize these skill sets. Jobs for welding could include underwater welding, rig welding, or even just welding in a union for job sites. 
Welding itself is a huge career, being able to get an early start in high school gives a big leap in being able to get one of these welding jobs mentioned above. 
"Taking mechanics is great," said Gibbons. "It shows us how to work consistently on a project while also making sure we are working safely." 
This is the opinion of Chief Advocate ag/FFA reporter Kevin Comerford.