Nonnewaug's 'Golden Era' Team Returns
WOODBURY — The smell of fresh paint was impossible to ignore. The year was 1971 and the newly minted Nonnewaug High School, replacing the outgrown Woodbury High School, was home to one of the state's most dominant boys basketball teams. 
The 1970-71 season was Nonnewaug's first as a regional school, and what better way to commemorate the school's inauguration than with a trip to the state title game for the school's boys basketball team?
The team and its indelible impact isn't one that'll be forgotten.
With just 12 seconds left on the game clock, Nonnewaug was ahead by just two points in the 1971 Class S state championship, but Cromwell had the ball in the hands of UConn commit Ale Weston. The final seconds of the game wound down to just one shot: a shot that defeated the undefeated. 
"It was just an awesome team," said Dan O'Neill, a sophomore on the 1970-71 team. "That team had three players make the All-Berkshire League."
Nonnewaug lost their first game of the season that night, 40-39.
Still, Nonnewaug, a team coming off an undefeated regular season, rolled over its first three state tournament opponents by at least 20 points. The team, led by Nonnewaug legends Steve McAllister and coach Ed Sadlon, went down in history as Nonnnewaug's golden era. 
"We learned how to lose," said McAllister, a four-year starter. "Big education: Winning is easy, losing is hard."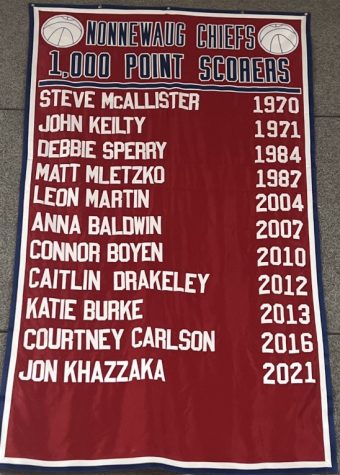 McAllister, the team's center and captain, affirmed his place in Nonnewaug history as the first 1,000-point scorer, racking up 1,640 points in his high school career. McAllister's contributions were later celebrated as a 2015 Nonnewaug Athletic Club Hall of Fame inductee. 
The three-sport phenomenon, McAllister made All-State three out of his four years at Nonnewaug and even made the 1971 All-American team. McCallister set the Nonnewaug record for single-game rebounds, 47, in a game against Brookfield, leading his team to victory 116-75 — this record is still held in his name to this day.
"I was the anchor; they came to me a lot and I would pass the ball around," said McAllister. "We had very good defense, we were quick, we meditated and we were very well coached. We just synced with each other."
McCallister's legacy at Nonnewaug was built under the guidance of a man who is an equally accomplished legend, Sadlon, a figure so large that it's only fitting that the NHS gym don his name. 
There's no shortage of descriptors when it comes to personifying Sadlon. His former players used terms like "disciplinarian," "kind" and "pillar of a person," all qualities that set his team up for success. 
Sadlon served as the boys basketball coach for a quarter-century, 24 seasons, winning six Berkshire League titles, including four from the years 1970-74. Sadlon ruled the court for both Woodbury and Nonnewaug high schools until his retirement in 1979. 
"He was a very special man," said McAllister. "Modern-day kids probably wouldn't understand him. A lot of people I think we're afraid of him, just very cut and dry, straight forward." 
A WWII POW, Sadlon's players respected him and that was obvious when the venerable coach roamed the sideline. 
"A lot of people think it's easy to coach good players," said McAllister, "but it's harder to coach good players because it's very hard to keep good players from being selfish, and I think Ed would rely more on how many assists we had, how many turnovers you had, how many rebounds you had, how many balls you got off the ground. He kept a great deal of statistics."
For Sadlon, his philosophy was built on a single premise: defense. 
"He cared how many points the guy you were guarding scored," said McAllister, "he cared how many loose balls you got off the ground by getting raspberries and strawberries on your legs, and floor burns and he cared on how many assists just as much as how many points one had."
This team's fire was fueled by the community's support and praise. A full gymnasium and a roaring crowd became the norm. 
"Friday night was the night to watch basketball," McAllister said of a community that lived vicariously through his team's successes. "90% of the games we played in as a junior or senior were sold out."
This team carried the weight of the newly formed district on its back every game, win or lose. 
"We lost and the community lost," said McAllister. "If you didn't get there by the start of the JV game, you didn't get a seat, and definitely if you weren't there by halftime, you were getting turned away." 
The 1971 team created a fun, exciting atmosphere for people to watch. Sadlon and McAllister weren't the only attractions that enthralled their Woodbury audience. 
"We had a good mixture of young guys and seniors," said O'Neil. 
"There were many games where three players had 20 points or more," said McAllister, "and five players had double figures. So I guess that's why, even our weakest people would get double digits."
With this team mentality, winning always took precedence. 
"When we played the game we didn't give a damn about anything other than having fun and winning the game," said McAllister. 
The Title Team Returns 
Nonnewaug took us back in time to celebrate the group of men who were a part of what Nonnewaug athletic director Declan Curtin called the "golden era." The "golden era" consisted of two teams in the early 1970s who reached the state championship game. Nonnewaug celebrated this successful era at the big red-out rivalry game for both the girls and boys basketball teams against Shepaug on Feb. 10.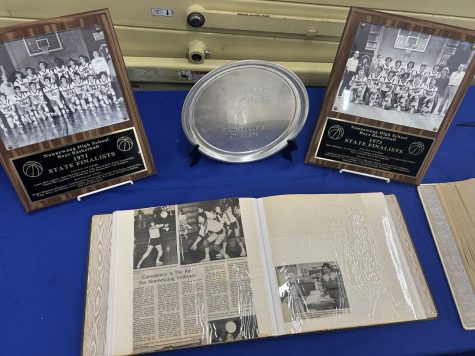 The idea was to thank them for what they did and for leaving a legacy. They catalyzed the momentum that paved the way for champions to come. 
The premise of a team reunion was sparked by O'Neil while he was looking for the plaques and trophies from 1971-73, and disappointingly he found none. He speculated how they could have been boxed up or misplaced during the renovation which is unfortunate but made the idea of the 50th reunion come to life.
"Having a 50th reunion for a bunch of … guys that played basketball, it means a lot to people to do that," said McAllister. "Connecting that to how everyone came out to it, it really meant something to the town. It was very meaningful." 
Curtin stated that the plaques and trophies were sadly thrown away or destroyed during renovations and couldn't be saved in time. To make up for the fact that the trophies and plaques are no longer in the school, Curtin ordered new plaques, which have a picture of the players as well of their names along with a commemorative pewter plate. 
In totality, Nonnewaug's inaugural championship team left behind a legacy that the collective Region 14 community wishes to remember forever.