Gengenbach: Out of This League More Than Just a Challenge
WOODBURY — Berkshire League teams are dropping left and right. As the BL decreases in size, out-of-league games are becoming more and more prevalent. This is one of the final years that Litchfield and Wamogo will be separate schools, eventually shrinking the Berkshire League to only eight teams for the 2024-25 school year. 
Out-of-league games are always known as a challenge for teams, but occasionally they can be overbearing competition, and as the league continues to shrink, adding these additional games becomes a necessity. After a few out-of-league lopsided losses this Nonnewaug girls basketball season, it's making many question the thought behind scheduling these unfair matchups.
"In recent years I have felt the competition may be a little unfair," said Charlotte D'Alexander, senior on the Nonnewaug girls basketball team. "Coming from a smaller league, it is definitely more difficult to play Class L or LL schools compared to the Class S schools we are frequently playing."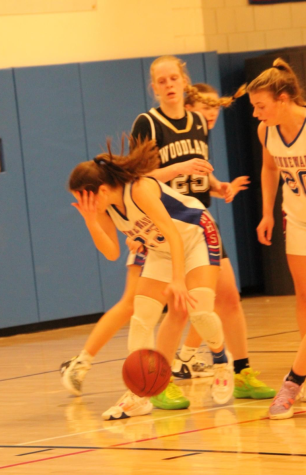 The goal of out-of-league matchups is to challenge teams and prepare them for the state tournament. However, many are questioning how playing completely stacked teams and oversized schools are helping teams or putting them at risk for injury. 
"Out-of-league games are nice to get more games in the schedule and see new teams, but [they] can be a lot on top of an already busy regular-season schedule," said senior captain Mallory Tomkalski. 
Recently, the girls team had three games in one week, including two out of league, which proved itself to be exhausting for the players. With only six consistent varsity players, the girls struggle to keep up with the demanding schedule.   The team lost both out-of-league games that week against Brookfield and Woodland, as well as a tough loss against Bethel at the beginning of the season. 
There have been many negatives with out-of-league games. They have proved themselves to be too much to handle for Nonnewaug after losing three of the four games to nonleague teams this season.  
Some players and coaches look at the positive angle of out-of-league challenges. Playing against better teams ishelpful in preparation for the state tournament as Nonnewaug faces much bigger schools. 
"I think it's good to play a different team once in a while. It gives us more experience," said Tomkalski. 
What many athletes are questioning is what thought goes behind scheduling these games. Is there any consideration of our school's size and talent of the team?
"We work with our coaches to determine who they want to play for non-league games," said athletic director Declan Curtin. "Depending on our strength, the coach may want to challenge their team with tough games. This scenario prepares them for tougher competition that they may face in the state tournament. If we are weaker than most years, the coach may want to pick teams that they need to get a win off of."
Clearly scheduling these games is a challenge in itself. Despite this challenge, it would be possible to craft a schedule that considers both teams' skill levels. With an ever-shrinking Berkshire League group of schools, and dwindling rosters, one might consider scheduling games against teams that are far more evenly matched.
This is the opinion of Chief Advocate sports reporter Fiona Gengenbach.