Stewart: It's Easy to Complain About Refs, But We Shouldn't
WOODBURY — The line hasn't changed.
"We lost because of the refs." 
And while that sentiment will always be true at times, there isn't much evidence to support the claim that officials are making mistakes worse than ever. 
For decades, whistles have been blown in protest against bad officiating. It's simpler than ever to uncover proof of referees making poor calls thanks to more statistical and video evidence than ever before, as well as social media grousing. 
Referees are imperfect because they are human. There is no secret ingredient that prevents these mistakes from occurring at any time, no matter how big or small.
According to some, the situation has gotten worse every year. 
"I can't even watch basketball anymore," said Nonnewaug senior Dylan Chung. "It's hard to watch bad officiating at the professional level; they get paid too much money. I hate seeing players get bad calls or even ejected for doing nothing."
In today's era, it doesn't take a fight to get ejected. Simply bouncing the ball or asking the referee a question seemingly can result in a player being ejected from the game. 
Due to a mix of both written and unwritten rules of the game, NBA officials appear to have established their own standards and set of rules that have an impact on how fairly games are called.
The questions now start to become a little murkier: What exactly is a technical foul? When does it become flagrant? How do officials know when to eject a player? Although there are guidelines to follow when answering these questions, it ultimately depends on the official and even the player.
There isn't a word that can describe the frustration of losing a game due to something that is out of your control. Everyone has experienced a situation where a questionable call costs the game, and there is not a thing that you can do about it. 
"I have lost plenty of games due to bad refs," said Nonnewaug senior Treyden Medonis. "The feeling is gut-wrenching, and losing to something that you can't control is always going to sting a little."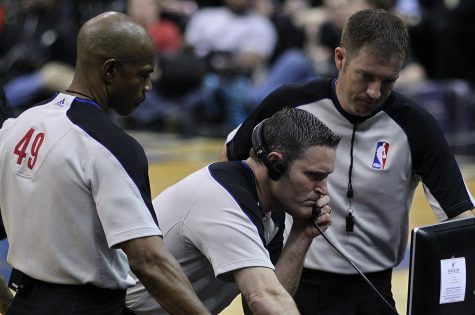 However, these problems go beyond just the NBA and are a recurring issue in high school sports. But the problem takes on a new dimension at the high school level. Sure, players and coaches still get frustrated with officiating in high school hoops — but at the same time, just getting officials is getting increasingly difficult.
In fact, the Berkshire League has trouble simply finding referees to officiate its matchups, so many times, teams see the same officials repeatedly throughout the season. If the BL can't even get referees on the floor, this is a major problem that will harm players, coaches, and spectators in the long run. 
"It gets annoying most of the time," said Chung. "Having the same refs at every game doesn't feel right."
These officials are part of a local region board, and they have an assignor who rates their efforts and places officials in contests. At the state tournament, coaches can choose officials they don't want to referee their games.
"There is a shortage of officials throughout the state due to their work conditions," said Nonnewaug athletic director Declan Curtin. "An official has to commit to four hours of their daily schedule to cover our games. This includes travel time, pre-game, and post-game time commitments. An official requires tough skin in today's environment. We need to appreciate all their efforts and recognize that they are a major component that contributes to our games being played." 
We must cease verbally harassing officials during games and support their efforts. Indeed, emotions may be involved in sports. This does not give us the right to belittle and disparage public servants. 
As leaders in sports, we must provide an example of excellent practices and encourage our players and coaches to overcome challenges rather than acting in ways that are inconsistent with the CIAC's Class Act activities. 
"My message to students is to thank officials," said Curtin. "It goes a long way when you need them on your side. It usually helps when you can put yourself in their shoes and appreciate the positions that they are in. Human nature and mistakes are major components of sports. You win some and you lose some.
"I always want officials to feel respected at Nonnewaug, and it is especially crucial for them to do so when they make bad calls," Curtin continued. "We want them on our side to make the next advantageous 50-50 call, but keep in mind that we had no control over the previous call."
Getting more people certified to be officials is a good start. This can increase the pool of candidates for games and encourages people to develop a knowledge basis for the sport and to become students of the activity. ​​You always have power over your emotions, whether speaking for yourself or a group. These circumstances must be acknowledged, and taken into consideration by the officials' side of the story.
This is the opinion of Chief Advocate sports editor Ben Stewart.