Hailey and Selena Aren't Feuding, But the Internet Is
If there's anything the internet does best, it's creating a fight out of nothing. Rumors about where Selena Gomez and Hailey Bieber stand with each other have been swirling across social media ever since Justin Bieber, Selena's ex-boyfriend, proposed to Hailey just six months after Justin and Selena broke up for good. 
The internet divided once again, spilling out shenanigans on whether Hailey stole Justin from Selena or not. Since then, things have been murky on whether the two stand on good terms, but all was put to rest when Selena posted a picture of them together at the Academy Museum Gala in October. 
No matter what any of them did to suppress the hate and rumors growing around them, fans continued to pick apart many social media posts to interpret what it meant with regard to the supposed feud. Everything seemed to boil over, however, when Selena Gomez reached a milestone that made her the most followed woman on Instagram, overtaking Kylie Jenner.
Shortly after, fans began to believe that with the help of Hailey Bieber, Jenner poked fun at Selena on her Instagram story. 
Gomez decided to post a TikTok depicting that she had accidentally over-laminated her eyebrows. Jenner soon followed by posting a photo of her face on Instagram with text reading, "This was an accident???" Following that statement, she then posted a FaceTime screenshot of her and Hailey Bieber that focused in on their eyebrows. When fans began to question the motives behind it, Jenner immediately tried to debunk the mean girl theories with a TikTok comment.
"This is reaching," Jenner replied. "No shade towards Selena ever and I didn't see her eyebrow posts! U guys are making something out of nothing. This is silly."
Selena joined the conversation by speaking out about the hate Jenner began receiving. 
"It's all unnecessary," she replied to Jenner's comment. "I'm a fan of Kylie!"
Despite this diffusion of the so-called TikTok drama, Selena posted another comment later defending Taylor Swift. The post showed an old video from 2017, where Bieber was seen making a gagging hand motion at the mention of Taylor Swift during a Drop The Mic segment.
"So sorry," Gomez says. "My best friend is and continues to be one of the best in the game."
After fans started to notice her comments, Selena announced her decision to quit TikTok all together. 
"I'm going to be taking a second from social media because this is a little silly," Gomez said in a TikTok Live. "I'm 30 and am too old for this. But I love you so much and I'll see you guys sooner than later. I'm just gonna take a break from everything."
After this announcement, fans accused Hailey Bieber of shading Selena for the second time by using the song "Calm Down" by Rema in her Instagram story. Fans feel that she purposefully chose the song because Selena Gomez was featured on it, yet Bieber intentionally did not include Gomez's vocals. Things went from bad to worse for Bieber as her comment sections filled up with negative comments from Gomez fans.
Since the drama began, Hailey Bieber has lost around 1 million followers. Meanwhile, Elle.com reports that Gomez gained 10.5 million followers on Instagram, and Jenner has lost about 500,000 followers. People are choosing sides all over the media, and #TeamSelena was trending on TikTok while all of this was happening.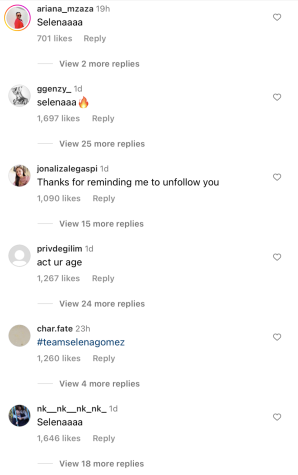 "I do think that I would be on Team Selena," says Madison Willis, a junior at Nonnewaug High School. "She does receive a lot of hate within the situation and people feel like she hasn't been the same since Justin. She doesn't deserve the negative publicity."
Many have different opinions on whether the drama itself is years of hatred boiling over, or just an exaggerated ploy made up by the internet.
"I think that honestly, the Hailey Bieber and Selena drama is unnecessary," Willis states. "People are reaching to create drama between Hailey and Justin. I also think that the public just liked Selena and Justin more and they're trying to find a problem with everything."
Even if someone were to be on Team Selena, many believe that Hailey still doesn't deserve the hate she's getting on social media.
"I don't think Hailey should be getting hate either," Willis explains. "I think she is just trying to live her life with her husband and people are trying to find a reason to make her out to seem like a mean girl." 
Many also think that the drama is more of a fabricated story created by the internet, despite lingering beliefs that an ulterior motive could have arisen.
"I think that the Hailey Bieber and Selena Gomez drama was uncalled for," says Katie Alexander, a junior. "It was started over something that should never have become a problem. It could have started because Hailey wanted to create drama and show that she is better than Selena."
In terms of picking sides, it's clear that some have a definitive person they support in all of this drama.
"I support Selena," Alexander says. "She did nothing wrong and was not trying to start drama by posting a video of her eyebrows. There was no need for Hailey to post anything because the video had nothing to do with her."
Despite the beliefs of those who have picked a side, everyone can agree that the hate beginning to make itself known for Hailey on social media is overwhelming. 
"I do not believe that all of the hate Hailey is getting on her social media is necessary," Alexander states. "I think that the least Hailey could do to lessen the hate she is getting would be to apologize to Selena for being unkind."