Lack of Snowfall This Year Affects Nonnewaug Students in More Ways Than One
WOODBURY – This winter was pathetic to say the least, breaking records for one of the warmest winters Connecticut has ever seen.  With the warm temperatures comes a lack of snow. 
The small amount of snowfall this season has made a strong impact on Nonnewaug students and even affected some of their incomes. 
Nonnewaug senior, Zack Hellwinkle, started a snow shoveling and salting business this past 2021-2022 winter season.  Unfortunately, with this year's lack of snowfall, he was forced to shut down his business and refocus his energy towards putting up Christmas lights. 
Hellwinkle wasn't the only one who's employment was affected by the lack of snow.  Jacob Wells, another Nonnewaug senior, has been working for Mohawk Mountain as a ski instructor and has also been impacted. 
"I've also been called off completely from work because there wasn't any snow, so no one booked lessons," said Wells. "I've only worked one day at Mohawk where I've been completely booked for lessons so the rest of the day, when I don't teach, I'm just getting paid to ski."
Many would view this as a good gig, but Wells also makes his money off of tips.  With no lessons booked, tips are hard to come by.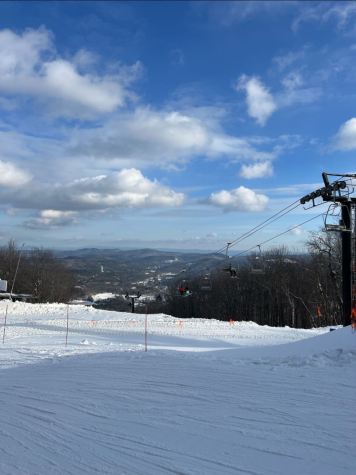 Charlotte D'Alexander, another Nonnewaug senior, is an avid local skier, but she found herself traveling north to the slopes in Vermont due to Connecticut's poor conditions. 
"The lack of snow is why I haven't skied in Connecticut this season," said D'Alexander. "The upkeep of snow in Vermont has been consistent whether it's snowing  or the production of making snow. Multiple trails are open in Vermont compared to other local Connecticut mountains."
More northern states are offering the snow that Connecticut can't offer this season.  The warm weather has made it increasingly difficult to produce artificial snow and that has been forcing skiers and snowboarders to go elsewhere. 
Plowing services, skiers, snowboarders, and other winter sports instructors have found themselves lacking this winter. Who knew snowfall could have such a great impact on many Connecticut residents. 
Not all residents have been affected negatively. Many have been enjoying the warm weather and not having to shovel their driveways.
 "The warm weather this winter has been so nice," said Nonnewaug senior, Sage Mauro. "It makes me more productive and makes running outside easier rather than just using a treadmill." 
There is a sense of panic among many, questioning whether or not this will be the new normal New England winter?