New Superintendent Murphy Shows Visibility in Beginning of Region 14 Leadership
WOODBURY – Visibility is a key quality of leadership, and it's something that new Region 14 superintendent Brian Murphy has shown the district since he began his role. 
"He's everywhere," said Anna Crocker, a Nonnewaug freshman. "I've seen him at sporting events and in classrooms. He's very nice, too."
Murphy has been spotted cheering on the Chiefs at games, attending FFA meetings, sitting in on classes, and in many other locations. 
This hasn't been an accident, as Murphy works to reach his goals for the district. 
"My goal is for continuous improvement in the district," said Murphy. "Region 14 is in a terrific place, and my goal is to have continuous improvement for all students, academic improvement for all students."
Murphy did his research when it comes to the excellence of Region 14, even prior to moving to Woodbury 15 years ago. 
"One of the reasons I moved to Woodbury was the school district. It always had our kids first, a great reputation and staff, and I wanted my daughter to have a wonderful education," said Murphy. "When the opportunity presented itself [for superintendent], I thought I wanted to be a part of this school district, one I'm already invested in and hopefully with a team approach to improve the district as well."
Murphy previously served as principal of Great Oak Middle School in Oxford, where he first became familiar with Nonnewaug through its agriscience program's outreach to Oxford eighth-graders.
"I had exposure to the benefits of the program as principal of Great Oak Middle School," recalled Murphy. "Some of our eighth-grade students applied to the program, so talking to the students and [former director] Bill Davenport, I had an understanding of how the ag program was such a terrific opportunity for the students." 
Murphy said he's proud to be superintendent of a district with a strong ag program.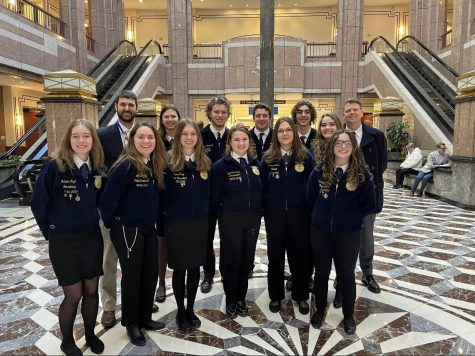 "I'm very fortunate [and] proud of the program, and I've attended multiple events already," said Murphy. 
Murphy has been impressed by the FFA students' skills, noting public speaking, discipline, and responsibility as strengths of the program. 
"The hands-on experiences that prepare students for college and the workforce – it's simply been amazing to observe in my first six months at Region 14," said Murphy. 
Murphy said his favorite FFA events have been the monthly FFA meetings, noting that it's "quite amazing to see how it's student-run and the connection they have with the program and the ownership, it was quite impressive."
Murphy also attended the Feb. 3 public hearing for SB-5003 at the Connecticut State Capitol to advocate for equitable funding for school choice programs alongside Woodbury's chapter officers. 
"They were so articulate, thorough, and very influential during their presentation at the education hearing," said Murphy. "I thought it was very important to be there and have administration and students make the case for increased funds for ag programs."
FFA students appreciate Murphy's visibility.
"I enjoy how he shows up to multiple events and supports our chapter," said Woodbury FFA chapter president Anna Shupenis. "He's been really supportive so far and has been a pleasure to work with." 
His willingness to jump in to meet teachers, and students and get involved has allowed his transition to being successful in leading Region 14.
"The transition has been phenomenal and seamless," Murphy said. "[It] confirmed the notions I had, with dedicated hardworking students, a student-centered staff that always puts kids first, and an excellent learning environment for all kids."