NHS Drama Club Follows the Yellow Brick Road to Spring Wizard of Oz Production
Zoie Cole, Assistant Features Editor
March 23, 2023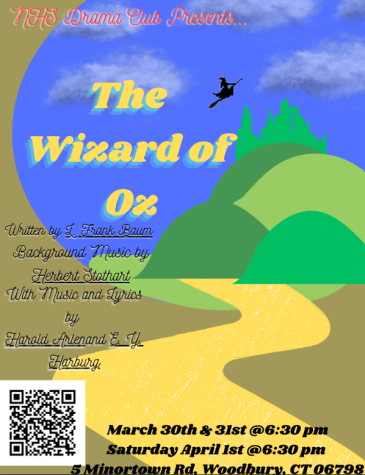 WOODBURY — Curtains closed on the Nonnewaug Drama Club's production of Clue in the beginning of December after months of dedication and preparation that paid off in waves of laughter from the packed auditorium crowd.
Now, the cast and crew are back in action, and hard at work in preparation for the program's spring musical: The Wizard of Oz.
"I'm excited to surprise the audience," said Nonnewaug senior Michaela Pellino, who will portray the Wicked Witch in the upcoming production. "I won't give anything away, but we have something planned that we're really excited to share."
Months after the club's first production of the school year, bonds between new and old members have only grown stronger.
"The whole cast and crew is 100% more confident now," said Nicole Dionne, Nonnewaug senior and the drama club's Cowardly Lion in the spring musical. "We've had time to get to know each other and share happiness in the things we do. We're a family."
The Wizard of Oz poses entirely new challenges for some of this year's cast and crew: singing, dancing, and the subtle elements that fit the pieces of the production together. Alongside acting and blocking, rehearsals focus on aspects like adjusting key and pitch, as well as choreography.
"Everybody knows The Wizard of Oz," Dionne said. "Everybody will come out to see The Wizard of Oz. It's a play for all ages, and I'm excited to perform."
Along with building bonds between one another, the course of the 2022-2023 school year has offered members of the NHS Drama Club the chance to grow closer with advisor Catherine Pelkey.
"Ms. Pelkey is super helpful," said Pellino. "She's great at making sure we feel comfortable on stage, which really helps us give our best performances."
This year, the production will take place at 6:30 p.m. on March 30, 31, and April 1 in the Nonnewaug High School auditorium. Tickets will be available online and at the door.
Click here to purchase tickets for the performances March 30, March 31, and April 1.