Nonnewaug Continues Reputation as LLS' Most Spirited Fundraiser
WOODBURY — Every year, Nonnewaug High School and many other Connecticut schools host a fundraiser for the Leukemia and Lymphoma Society.
Not only does Nonnewaug fundraise, but the school holds fun and creative days throughout spirit week, including student-planned events. It's proof that nobody does it as well as Nonnewaug does. 
"Nonnewaug in the LLS community is known to have the greatest spirit with this endeavor. No other school shows as much spirit and enthusiasm for the event," says Tricia Brown, a math teacher who organizes the event each year. "I am personally very proud of all involved and thankful for everyone who wears red."
At Nonnewaug, the red-out spirit week started in 2020, when Brown's daughter, Katie Brown, was a student visionary for the LLS. The inspiration came from Katie's first-hand experience with leukemia.
"Katie was only 3 years old when she was diagnosed with leukemia," Tricia Brown said. "She went through 2.5 years of treatment. Today, she is cured because of the research that LLS has done. She started the red-out idea as a way to raise funds and awareness."
Many schools since then throughout the state have joined in the efforts to raise money. 
This year to raise money, the fundraising group at Nonnewaug sold bandannas, bracelets, T-shirts, and pom poms, and students could buy chain links for their class competition.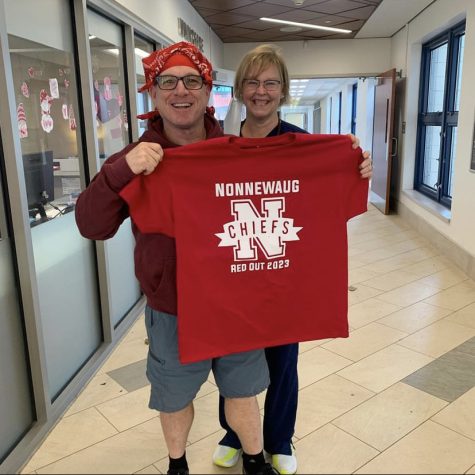 The spirit week lasted from Feb. 6-10. At the end of the week, students and staff gathered in the auditorium for a pep rally in honor to show our support and appreciation. 
During that week, Nonnewaug raised $5,663. However, LLS fundraising continued with more fundraisers at the high school and middle school, so the number reached more than $14,000. 
"Team CALL – Chiefs Against Leukemia and Lymphoma – [had] until March 24 to raise money," says Brown. "They [were] competing against 14 other teams in the state in hopes to be the team that raised the most funds in a seven-week period." 
Junior Maggie Keane, Skylar Chung, and Sam Duncan continued to host many events to still raise money through the end of March. Those included a bake sale at LaBonne's and a 3-on-3 basketball tournament at NHS.
"We have gone to senior centers and food chains like Panera and Chipotle as well as local Woodbury businesses to ask for gift card donations," says Keane.
In the upcoming years the vision is to have all of Woodbury declare a red-out day, Brown said.
All proceeds from the fundraiser go to blood cancer research and helping those affected by it.
"We want to thank you all for contributing to our campaign, Student Visionaries for the Leukemia and Lymphoma Society," Keane, Chung and Duncan wrote in an email to Region 14 staff members at the conclusion of the campaign. "As a grand total, the 15 high school teams competing in this campaign raised over $146,000 in the span of seven weeks. Our team, Chiefs Against Leukemia and Lymphoma, raised over $14,000! We came in fourth out of the state! We are one step closer to helping find a cure for blood cancer."