Nonnewaug Names 17 Seniors to Top 10%
WOODBURY — Graduating high school is a significant milestone for every student. For many, it represents the culmination of years of hard work and dedication. For some, it also means achieving a significant academic accomplishment, graduating in the top ten percent of the class.
"To be acknowledged for being in the top 10% of one's graduating class is a distinction that is recognized each year," said Nonnewaug's principal Pam Sordi. "The students who have achieved this honor have consistently taken rigorous courses over four years in high school and have performed at the top of their class. This distinction represents well-rounded students that excel in all areas of study."
Graduating top three of the top 10% are Rebecca Varnum, Jack Rubacha, and Mallory Tomkalski.
The rest of the top 10% includes, in alphabetical order, Lux Calo, Zoie Cole, Gretchen Davis, Helena de Castro, Daniel Foster, Samantha Molzon, Leah Murphy, Polina Mylus, Emma Primini, Nicholas Rose, Benjamin Shea, Anna Shupenis, Owen Vinciguerra, and Max Wolff.
"This recognition means a lot to me," said Varnum, the Class of 2023 valedictorian. "I have worked incredibly hard in high school to maintain my grades along with other responsibilities. I'm really grateful to be in this position."
"It means a lot that I am being recognized for my efforts inside the classroom," said Rubacha, the salutatorian. "It shows that others appreciate my own and my peers' time sacrifices for achieving high marks."
With the hard work and dedication these students have put in throughout the years of high school comes with many challenges.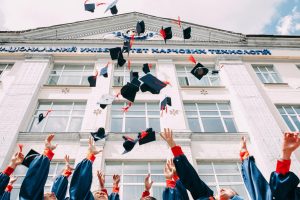 "My primary motivator to work hard in high school was the prospect of getting into a good college that would suit my future career," said Varnum, who will enroll at Boston College this fall. "I've had my sights set on nursing for a while, so thinking about achieving this career in the future was a big motivator for me."
"I was motivated by the opportunity to prepare myself for the best possible higher education and a more successful career," said Rubacha, whose college choice is currently undecided. "I am striving to be an influential member of the academic community, and make an impact on the world." 
The top 10% are determined by their class's highest weighted grade-point average. The window for this calculation ranges from fall of freshman year to mid-term exams of senior year.
"Students must begin by selecting the most challenging courses they can be successful in and then consistently earn high grades in those courses," said Sordi. "It takes dedication, sacrifice, and a drive to succeed."
The Region 14 community can be proud that these students in the top ten percent embody all three of those qualities.
This group will be honored at a banquet April 27 where faculty and staff will be speaking on behalf of each honoree. 
A final celebration of this exclusive group will be at graduation June 17 as these students will be recognized with the extra cord that they have unquestionably earned by obtaining their place in the top 10% of Nonnewaug's 2023 class.