Pope's Coaching Inspired by Experience with Auriemma
WOODBURY — It was 2013 when Geno Auriemma tied the NCAA record, racking up his eighth national championship with UConn. Freshman Breanna Stewart, at just the start of her unforgettable, prestigious career, led the Huskies to a 93-60 win over Louisville.
Sitting aside these legends was Nonnewaug alum and future coach Rebecca Pope. 
It's every girl's biggest dream to play collegiate basketball, but to play for Geno Auriemma at the elite Division I level is a dream many can never achieve. For Pope, this dream quickly became a reality. 
"I think this is always a quiet dream of Connecticut kids who grow up playing basketball," said Pope. "I never thought it would be a reality until I decided to go for it. Once I committed to trying out, I really believed I had a shot, which I think gave me the confidence to perform well throughout the tryout process."
Pope played Nonnewaug basketball all four years of her high school career, then went on to play at UConn Avery Point for two years before deciding to walk on at UConn. 
"After completing two seasons at Avery Point, I went through the recruiting process again to play at a higher level," said Pope. "I had an offer from the University of Bridgeport (Division II) for the fall of 2012. However, over the summer I spent a lot of time thinking and decided that UConn fit my academic needs better."
At Avery Point, she quickly made a name for herself, racking up award after award, preparing her for the best of the best: UConn.
"Playing two years at a smaller college definitely helped develop my level of playing and made it possible to compete at UConn's level," said Pope. 
Pope's name is among Avery Point's all-time leaders in blocks, 3-pointers and points. She was selected to the 2011-12 NJCAA Division III All-American Second Team.           
Pope, after making it onto the UConn girls roster, unfortunately suffered multiple injuries which forced her to redshirt. She faced a torn meniscus, three stress fractures of the spine, bursitis of the hip, and a heart arrhythmia.
"While the news was devastating and hard to cope with at the time, in hindsight, the time on the sideline has positively supported my coaching," said Pope.  
Pope took this time as a great opportunity to arguably the best coach of all time, Auriemma. 
"I was able to observe Geno and his staff at work during one of their more difficult seasons that turned into a national championship," said Pope. 
At this time Auriemma was still building his legacy at Gampel Pavilion, and Pope had a front row seat to it all.   
"She has seen things at a different level than a lot of people have," said Toby Denman, Nonnewaug's assistant girls basketball coach. "As a result, she really understands offensive basketball and helps come up with different sets. She does a good job at communicating the intricacies of different parts of different plays."
Now, 13 years later, Auriemma has led his team to 11 national championships and sent 38 women onto the WNBA. Pope, the former Berkshire League All-Star, looked to implement ideas taken from her time under Auriemma in her first season at Nonnewaug. 
"The concept of 'together,'" Pope said. "Every success and failure UConn goes through is experienced as a team, and Geno really emphasizes 'together.'"
"Coach created a positive atmosphere at practice," Denman said. "I believe the girls both like her and respect her. I do, too. She is a great teacher of fundamentals and does her best to put the girls in opportunities to be successful."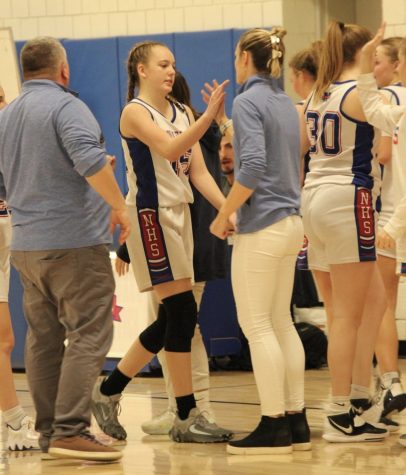 Madison Dannenhoffer, the recipient of the BL's Edward B. Kolakoski Sportsmanship Award, was unaware if she could play in her senior season after facing a multitude of injuries from a car accident back in August, but that was not standing in her way of sticking with the team with the help from Pope.  
"Coach Pope was honestly a huge part of my recovery," said Dannenhoffer. "Without knowing it most of the time, she pushed me to heal and get better."
Pope gave Dannenhoffer the tools she needed to get better while still cheering on her team. 
"She gave me the space and drive to heal on my own time while allowing me to be involved with the team to my fullest extent," said Dannenhoffer. "She didn't treat me differently because of my injuries and that ultimately helped me to succeed."
Charlotte D'Alexander, a senior who started at point guard,
"Coach Pope has made a significant impact to the team this season," D'Alexander said. "Her winning mindset definitely motivated the team to work harder."
The Chiefs finished the regular season third in the Berkshire League and reached the BL semifinals and the Class MM second round. Pope said she's happy with her decision to return to Nonnewaug, and she's grateful for the contributions of Denman and previous head coach Adam Brutting.
"It has been easy to come back to Nonnewaug. Everyone has been very welcoming," Pope said. "I am elated that Mr. Denman agreed to coach with me this season and can definitely credit him with a lot of our success. Coach Brutting did a really nice job with this program over the past decade. I am hopeful to continue the legacy of winning."
Andrew Greene contributed to this story.