Spring League Football Kicks Off– But Does Anyone Care?
WOODBURY — Super Bowl LVII has long since crowned a champion, and the NFL has moved into its off-season stage. For previous years, the conclusion of the season meant no live football games until the NFL season starts up again in early September, that was until two spring football leagues have emerged these past years that have football running until mid-June.
The XFL and the USFL are both professional football leagues that were created decades ago, and they have reappeared within the past few years.
These spring leagues are created with the intention to give fans a great and new experience, replete with created teams, different rules, and giving players who aren't on NFL rosters an opportunity to showcase their talent and get back to the top.
Dwayne "The Rock" Johnson, one of the owners of the XFL, considers XFL players as the "54th player" as they are great players, but not good enough to make an NFL 53-man roster.
These implications can easily spark an interest in fans, seeing how much it means to the players: an opportunity to showcase their talent for an opportunity with an NFL franchise.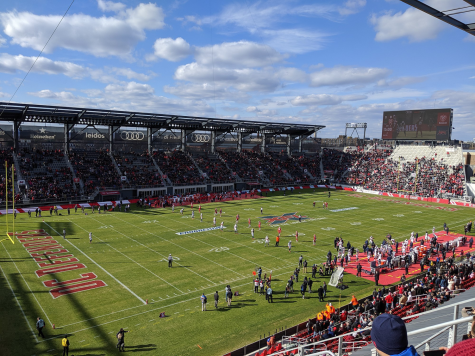 "I liked watching all the new rules and teams and watching the players who are fighting for a spot," said Michael Odumegu, a senior at Nonnewaug. "The players fighting for a spot adds a new competitiveness to the league."
The reappearance of these leagues started in 2020, when the XFL had their first season averaging 18,000 fans a game, and hosted nearly 30,000 fans in games in St. Louis and Seattle. The season unfortunately ended early due to COVID-19, and they are working their way back to pre-pandemic levels.
Entering 2022, the football world saw the USFL start its first season and the XFL announce its comeback in 2023, which is where we are today: a spring football scene teeming with talent. 
Some people won't find these new leagues, rules, and teams entertaining, but that doesn't mean these leagues won't make an impact in the NFL.
"I think with the success some XFL and USFL teams are having, they can be great expansion franchises if the NFL wanted to add them," said Nonnewaug wellness instructor Dave Green. "St. Louis is pulling big crowds and the city of St. Louis would love to get an NFL team again."
The NFL has worked with both leagues, experimenting with new rules to try and help the game. This can be great for the fans to get better football to watch.
"I think having these leagues are great for fans," said NHS math instructor Ray Robillard. "Giving the NFL competition as these leagues grow will help both leagues try and make the game better, which is just better for anyone watching to get a better experience."
These leagues have a high track record of producing top-level NFL talent, developing some of the greatest players to play the game, such as Dan Marino, Reggie White, and Steve Young.
These secondary leagues have suffered from a lack of local interest due to not having enough teams.
"I haven't watched a game yet," said Robillard, "although if there was a local team that actually played locally, I would definitely watch games."
These spring leagues have had a great start to their opening seasons, and they are continually building interest evidenced by St. Louis breaking the spring football league attendance record earlier this season. 
"The games are entertaining," said senior Ryan Ponte. "The league makes it easy to follow a team and root for them."