T vs. T: Swifties Get their Revenge on Ticketmaster, 'Reputation' Style
WOODBURY — It's a typical Tuesday afternoon when Swifties, Taylor Swift's most loyal followers, had their lives changed by a single announcement: The Eras Tour was the best news anyone could've given a Swift fan at the beginning of November, just a few weeks before her album Midnights hit the shelves.
Everyone readied their computers for the fateful day when tickets went on sale, gathering their team and ammunition compiled of fast clicking and "add to cart" to prepare for the sale day. What they didn't expect, however, were website crashes, long waits, and other technical glitches that precluded fans from gaining access to Swift's most coveted tickets.
"My overall experience with Ticketmaster was quite poor," says Emma Primini, a senior at Nonnewaug. "I was unable to contact customer support during pre-sale events and I experienced multiple delays during the entire ticket-buying process."
Many believe that a lawsuit against Ticketmaster is warranted regarding the unfortunate outcomes of the sale.
"I do believe that a lawsuit is justified," Primini states. "A monopoly over the ticketing industry must be combatted to ensure fairness and equity for all purchasers. Additionally, Ticketmaster incentivizes artists, such as Taylor Swift, to use their platform to mitigate price gouging; however, it still happened."
All of these outcomes have users theorizing solutions that can make the company better at what they're meant to do: sell tickets. 
"To improve overall customer experience, I think that Ticketmaster should reevaluate their business practices," Primini says. "Perhaps looking at other ticketing companies such as AXS and how they were able to control prices would provide insight. Additionally, providing incentives for artists only plays into unfairness and unequal purchasing power."
Others share similar experiences regarding the adverse circumstances surrounding the ticket sale, and many have a litany of issues with the company itself. 
"During the Taylor Swift: Eras Tour ticketing event, I was hopeful that the ticketing process would be smooth," says Cristin Gordon, a Swiftie and member of the greater Woodbury community. "It appeared that Ticketmaster had a grasp on the demand for seats and was very communicative through email about the verification process. However, on the day that pre-sale began, it was clear the platform was entirely unprepared for the number of people seeking tickets. I waited in the queue for several hours and once I reached the end of the line, it appeared the site had crashed. I was frustrated that I needed to start the entire process again only to receive notification that it was too late."
Personal experiences with Ticketmaster seem to bring up spiteful memories surrounding the whole experience. Everyone's story is different, and yet everyone seems to have a few unsatisfactory experiences with this ticket vender.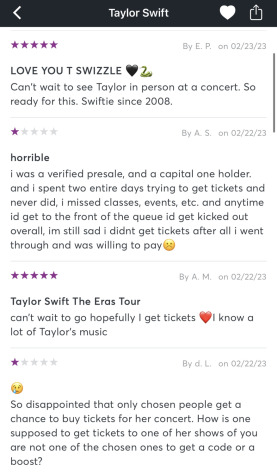 "Luckily, I had another chance [to get tickets] through the Capital One presale," Gordon explains. "I and a friend queued for different dates and venues to have a better chance at obtaining tickets. We both waited again for several hours and after finally reaching the end, it appeared there were at least two seats available at the venue I selected. However, as soon as I selected them, I received a message that the venue was sold out. I attempted quickly to get in the line for a different venue but received a message shortly after that the presale had again ended. Shortly after that, I learned that general sale tickets would not be available and my chances were over. Overall, my experience cost me many hours of waiting in line only for the site to crash or for no tickets to be available at the end of the line."
The painstaking experiences some people have lived through assure many that a lawsuit against Ticketmaster is surely warranted, as many fans deserve justice for the hours wasted. 
"From what I can tell, it appears that Ticketmaster has a monopoly over how most venues and artists can sell tickets," Gordon says. "Additionally, the platform can fix prices however they see fit, which not only negatively affects the fans, but may prevent artists from receiving appropriate compensation. For these reasons, I think it is entirely reasonable to seek reparations. This lawsuit will also shed light on unfair ticketing practices so the courts can work to make broader changes."
Ticketmaster should receive ample opportunities to improve their company and the way they go about operating. Many have offered up suggestions as to what actions they could take to ensure the next ticket-selling experience goes smoothly.
"When it came to the tickets for the Eras Tour, Ticketmaster needed to put more structures in place to prevent bots and third parties from snatching tickets," Gordon added. "They also needed to anticipate the large demand and release tickets gradually. However, the most important thing Ticketmaster can do is to review their agreements and practices with input from ticket buyers, venues, and artists."