100 Years of Nostalgia: Disney Leaves Impact on NHS Community
WOODBURY — Walter Elias Disney was freshly 18 years old and looking for a career he would stick with. Disney knew he wanted to create cartoons, and as he was looking for an opportunity here came Margaret J. Winkler, the first woman to create and distribute animated films.
Disney signed a contract fairly quickly and started producing. The first thing Winkler and Disney created together was the Alice comedies, his first-ever published cartoon. Only a few years later, Disney and his brother, Roy, created their own company: Disney Brothers Cartoon Studio.
Fast forward 100 years and Disney Brothers Cartoon Studio is the Walt Disney Company, one of the most renowned, magical empires in the world with hundreds of films and six theme park resorts around the world that touch the hearts of millions every day.
Disney's 100-year anniversary of cartoons and characters is creeping up in a few months. With more and more people feeling safe to go back to Disney after the pandemic when privileges were preempted, many fanatics are electrified with the excitement of being able to celebrate with the mouse that started it all.
As everyone is reminiscing about Disney, many people don't realize how big of a part Disney Studios plays in most children's lives; Disney owns Pixar Animation studios, Marvel Entertainment, and the Muppets, to name a few franchises. 
"I was so obsessed with the movie Cars when we tried to play the DVD, it doesn't even work anymore because it was played so many times," said Zoie Cole, a Nonnewaug senior.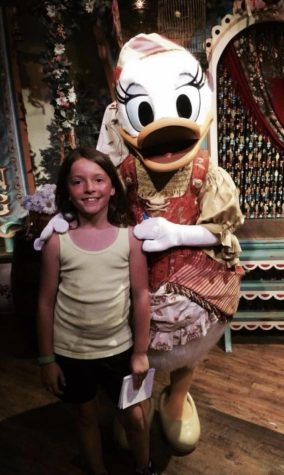 As many students grew up watching Disney movies and shows, and maybe even going to the park itself, the entertainment doesn't stop there. Disney has been enchanting generations ever since 1937, when Snow White and the Seven Dwarfs was released. 
Tom DiMarco, Nonnewaug's landscaping instructor, used to work at Walt Disney World as a landscaper.
"Working at Disney was such a surreal experience, walking through the park every morning before it opened," DiMarco said. "For having worked there, I definitely had an extremely positive experience."
DiMarco was a lifelong Disney fan even before working at the park.
"I would watch Disney as a kid growing up; I mean, everyone did," DiMarco said. "My family went to the Disney parks. We were never crazy Disney people, but I totally understand the people that are obsessed with Disney. Working there definitely made me more of a fan than I already was. My wife and I try to go every few years."
Nonnewaug senior Madelynn Orosz is well known as a Disney superfan.
"My uncle works for Disney, so I have been exposed to the company and all the characters since I was born. I've been able to go to the parks and get extra magic thanks to [my uncle]," said Orosz. "My bedroom when I was a baby was Winnie the Pooh-themed and everything."
As of November 2022, Disney has released 61 feature films since Snow White premiered, along with hundreds of other short films and enchanting series, reaching the hearts of many young children and even adults.
Caroline Martinetto, a Nonnewaug senior whose favorite movie is The Little Mermaid, hasn't been to Disney World but she says that hasn't gotten in the way of loving Disney.
"I've been saying I feel left out from the experience of the magic from Disney parks," said Martinetto. "Even without visiting the parks, Disney still had an impact on my childhood."
Many people can't afford to stay at Disney as it averages anywhere from $4,000-$9,000 for a week's stay. There are many people who save up for their entire lives to go to these parks and get this experience that is so heavily marketed, so Disney wanted to bring magic into all homes at a bit more of an affordable price tag.
Disney+ costs $7.99 a month with ads or $10.99 without ads, and this streaming service produced over $82 billion of revenue in 2022. Disney+ carries more than 15,000 episodes and nearly 600 different films — more than 4,500 hours or 187 days of captivating stories at the tip of your fingers. 
Even after the movies have been released for a number of years, kids and adults still watch them every day. So as Disney celebrates 100 years, think about all the movies you have watched since you were a kid, or how you felt the day you walked into the parks for the first time.