'Daisy Jones and the Six' Garners Rave Reviews on Prime Video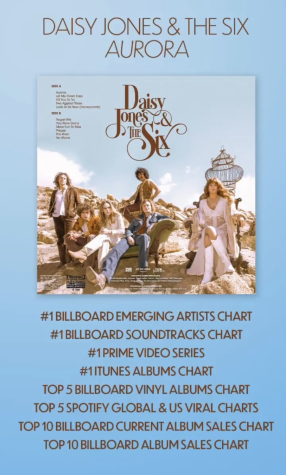 For book lovers, there's nothing more exciting than the announcement of adaptations from your favorite books. The pressure is on the writers, as they now have a whole fan base ready to judge you on whether your adaptation lives up to – and correctly resembles – the book. 
Daisy Jones and the Six by Taylor Jenkins Reid tells the story of an iconic rock band from the 1970s along with its lead singer, Daisy Jones, as the book explains the events from their first meeting to the inevitable breakup of the band. 
The adaptation was announced in 2018 when Reese Witherspoon's production company revealed its plans to turn the book into a show on Amazon Prime Video. Many believe that the company, Hello Sunshine, did a good job closely resembling the book in their adaptation. 
"I think it was adapted well," says Sophia Betkoski, Nonnewaug junior. "In the book, we only see the interviews and not what happened, whereas in the show, we're shown the interviews vs. what happened, so it makes sense that some things are different."
As a now well-loved show with a committed fan base, people are bound to notice a few errors in the writing based on how well the TV show adapted the book. 
"Chuck getting drafted to the Vietnam War in the book was historically accurate," Betkoski says. "[Chuck was] the other band member that made them The Six. Also, the talk at the end of the story between Daisy and Camilla is important because that's when Daisy realizes she needs to change in the book."
Others also have an opinion of whether the adaptation closely resembles the book, and many have glowing reviews.
"I think they adapted it well," says Julia Marunas, a junior at Nonnewaug. "In the show, you can see how the characters acted and reacted in the moment and not just how they remember the moment in the interviews. I think that Daisy's character is a little different in the show but nothing big that bothers me."
As more books begin to gain popularity and eventually turn the corner to adaptations, time will tell if fans will be happy with the new era of resemblance featured in their television.