Forever Unified: Nonnewaug Unified Basketball Alumni Return
WOODBURY — Nonnewaug High School became the first to host a Unified basketball alumni game as the Chiefs brought back alumni to relive their glory days March 21 in front of a crowd of students, faculty, and community members. 
An idea originally thought up by Nonnewaug athletic director Declan Curtin, the alumni game gave the opportunity to many past players to come back to Nonnewaug and get involved again. 
"It felt great to be back at Nonnewaug again and be honored," said Abby Davis, a Nonnewaug 2021 graduate and former Unified player.
Nine alumni, all of whom have graduated in the last five years, came back to Nonnewaug to participate. 
"My favorite part of the game was being able to play with former teammates," said Davis.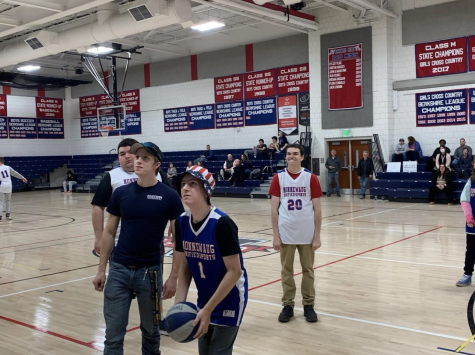 This event was extremely meaningful for those who got to come back and play again. Unified had a substantial impact on all of the alumni throughout high school.  
"My favorite part of the game was watching the alumni walk through the door for the first time since they graduated and seeing them smile," said John Dominello, the Unified co-coach for the last 11 years. "Seeing how many teachers showed up from Bethlehem, Mitchell, Woodbury Middle School, and Nonnewaug was really great."
Unified's main goal is to let kids who don't have the chance to participate in traditional sports to come together and have fun. Anyone is welcome to come participate and get involved.
"It is such a cool opportunity," said Dominello. 
The event, the first of its kind, created such a splash that it caught the attention of the CIAC.
The CIAC tweeted about the event saying, "Want to take your Unified Sports Program to the next level?  How about a Unified Alumni game? Nonnewaug High School did it yesterday! Awesome idea."
With the CIAC expressing the importance of this idea, there will hopefully be more alumni games in the future and in other schools' Unified programs. 
Although no one will remember the score, seeing familiar faces back on campus reminded a gymnasium filled with supporters of what makes Unified so impactful: relationships that transcend graduation. 
"The most rewarding part is everyone coming and having fun," Dominello added.