NHS In"Vest"ed in K9 Fundraising
WOODBURY — When worst comes to worst and human foot or vehicles can't help, a certain four-legged hero comes in to save the day. Police K9s are an important aspect of keeping people safe.
In Connecticut, a lot of K9 units are non-profits and don't have a lot of money to buy their dogs the vests they need to protect them on the street.  
There are multiple foundations that help with this problem; a couple of them are Brady's K9 Fund, Blue Paws Matter, and Vested Interest in K9s. All of these programs have a few things in common: They host large events for the K9s they help and supply vests, food, and medical supplies for K9s, and some even supply departments with new cars for their K9s.
"Blue Paws Matter is actually an organization that helps support us and many other K9 Units all across Connecticut. They host fundraising events and merchandise and use the proceeds to benefit different police departments," said Sergeant Danielle Durette, a K9 officer from the Naugatuck Police Department. "Recently they hosted a K9 comedy show here in Naugatuck and donated the proceeds to our NPD K9 Unit. The owner of the organization also works for our local vet so she is very involved in the health and well-being of our dogs as well."
Some departments even have been given K9s like Naugatuck. Naugatuck was given a police service dog trained by Puppies Behind Bars out of New York. Even though all of these non-profit organizations help police agencies in different ways from giving them vehicles and supplies or even giving them a dog to help with PTSD it is all very useful. 
"K9 Indy was donated to us by the organization Puppies Behind Bars. Puppies Behind bars is an organization that has prisoners train K9s that are ADA [approved]," said Durette. 
These non-profits play a huge part in how a K9 unit runs. The two main non-profit organizations that have donated a total of 5,780 vests, including Naugatuck.
"Two vests have been donated to the Naugatuck Police Department for both of our working dogs, Judge and Tommy," added K9 Sergeant Jake Pinho.
One of these organizations is Brady's K9 Fund, which was started by an 8-year-old boy in 2018 who found out that most K9s were not as protected as their handlers. Since then, the nonprofit has been able to supply 772 vests to K9s all over the United States and even to K9s overseas in the military and in the United K9s.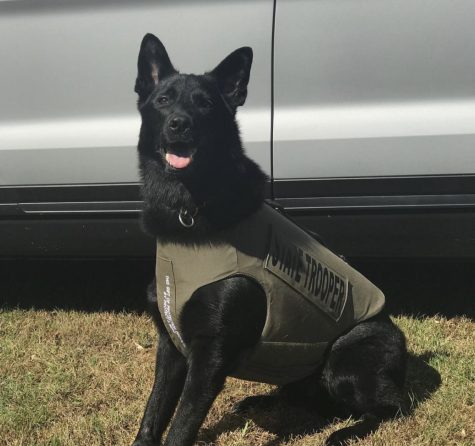 The other organization is Vested Interest in K9s. This agency was founded in 2009 and since then they have raised money to supply 5,008 vests, 2,300 Narcan Kits, and two police SUVs.
All of these organizations use people to run fundraisers to help them get the money they need to help the K9 units; something people can do is participate in a penny war.
The Woodbury FFA hosted a penny war to help raise money for a vest through Brady's K9 Fund and Blue Paws Matter. This is the second year the FFA hosted a penny war to get a dog a vest.  
"We [ran] this fundraiser because officers risk their lives every day and have a vest to protect them. Most departments don't have the funding to pay for a vest because of the price point of $1,200," said Ashlynn Graziano, a sophomore in the FFA. "When Jason Suess found out about this he went through the process of getting the penny wars approved and then also getting some K9s to come out for the winning class."
Even though most people and companies host penny wars, that is not the only thing one can do. People can also collect scrap metal to sell and then donate it to one of the nonprofit organizations.
Even with all of these organizations that help K9s get the gear they need, anything helps.