O'Brien Adds Experience and Expertise to Nonnewaug Math Department
WOODBURY — Lauren O'Brien is a new face in the math wing of Nonnewaug High School.
Teachers coming and going throughout the year is an unusual challenge that most students don't have to face, but for some students taking math this year, it was a struggle until they found the right person. 
"We had Mrs. [Laurie] Bain, then Mrs. [Helen] Sperry and Mr. [Mark] Strumolo, then we had Ms. [Jen] Trocolla, and now we have Ms. O'Brien," said Casey Watson, a Nonnewaug senior. "It was definitely challenging having to adjust to so many different teachers throughout the year."
Once the NHS math department found the right fit for their students, O'Brien unpacked her things to start her journey of making a valuable learning environment within the walls of NHS.
"She is really nice, lets kids talk for themselves and is always willing to help," said Kyleigh Paige, a sophomore at Nonnewaug and one of O'Brien's advisory students. "She listened to our points on random things and didn't judge our statements."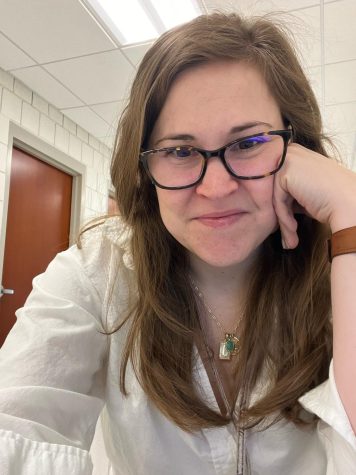 O'Brien is from Southbury, where she has a 1-year-old son named Conner. When she was younger, she was a student in Region 15 schools and attended Pomperaug High School.
Before O'Brien became a part of NHS, she taught at Middletown High School and West Haven High School.
"I struggled a lot in school up until about eighth grade when I had two amazing teachers who helped me so much," she stated. "They realized I needed extra help and attention."
O'Brien was diagnosed with ADD and a reading disability, but soon learned strategies to help herself. Fortunately, she had the guidance of amazing teachers willing to help her succeed.
"Those teachers were life-changing for me," said O'Brien. "I always hoped to make an impact on students in the way these teachers made an impact on me. Since I struggled with reading, I gravitated towards math."
These life-changing experiences from her previous teachers helped mold her to do the same for others. 
"She has really helped me improve my math grade now that she really knows what she's talking about, which helps me out a lot," stated Watson. "Especially around the time of scholarships and college applications, it was hard trying to learn from past teachers that didn't have experience teaching prob and stat."
O'Brien's childhood disability is now an asset to all of her students in the building. Math is everywhere, and O'Brien strives to make her atmosphere interesting and engaging for every type of learner.
"My goal is for my students to be able to watch the news or interact with others as adults," O'Brien said, "and feel educated and well informed with anything pertaining to math."