Orosz: Are Posthumous Albums a Problem?
"The last Juice WRLD album is in the works. We want this album to feel like a celebration/party! Let's celebrate the life of Juice. No more mourning, I want everyone that Juice loved while he was here to help celebrate, especially his fans who he loved. You guys have been the best fans an artist can have. I'm not gonna complain but I'll just say this is not easy. We miss you, we love you 999 till the world ends." — Lil Bibby, founder of Juice Wrld's record label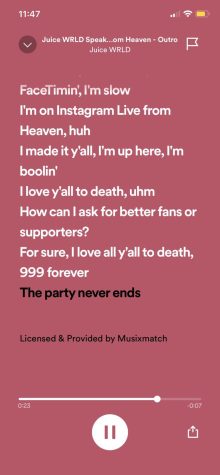 With the March 23 release of The Light, one of the remaining unreleased songs recorded by Juice Wrld, many questions how ethical it is to continue releasing music after an artist passes.
The rap industry is plagued by rising stars being taken too soon just at the start of their peaks. The late 2010s were horrific for the genre with stars such as Lil Peep (overdosed in 2017), XXXTentacion (murdered in 2018), Mac Miller (overdosed in 2018), Juice Wrld (overdosed in 2019), and Pop Smoke (murdered in early 2020), it seems the only way to keep their fans going is to release the music. 
"Mac Miller died and it was really sad, and I thought his music was going to come to a halt after his death," said Izzy DiNunzio, a Nonnewaug junior. "I'm grateful that Circles [was released]. It is a really great album and it is the other half of Swimming [Miller's first album] before he died. Without Circles, his discography wouldn't be complete, so I'm glad it came out."
"The popular adage is that posthumous albums offer a sense of closure for listeners. But for those artists and their fans, there's no such thing as closure — just experiences that end however they end. We're rarely ready for death, but it's always ready for us," said Hulda Hicks of Raptology in 2022. "Posthumous albums do more than entertain or placate fans, they offer fascinating, frightening glimpses of unresolved dreams and nightmares."
Four months after the death of Juice Wrld, his label released his first posthumous single "Righteous." Throughout the lyrics, a deeper struggle with drugs than fans originally realized is explored and exposed. 
"I'm in too deep," he raps. "Can't swim like me/We're drowning, so I will see/My demons ten feet, under me/Inhale, exhale, but I can't breathe/Too busy drinking codeine doin' high speeds/Crash, pour a four, sip it slow, make the time pass/Take a pill for the thrill, have a relapse/Devil in my head tryna run gym laps/I ain't tryna race, he doesn't even know me like that."
While artists like Pop Smoke and Juice Wrld had a large unreleased catalog to go through, other rappers, like XXXTentacion, have many short samples but not fully fleshed songs.
This has led to lazy releases as cash grabs from his record label like his first posthumous single, Arms Around You in 2018, adding three additional rappers to flesh out the short lyrics recorded by X before his passing.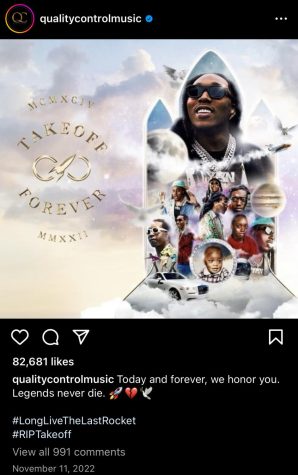 Another lazy release includes 2018's Bad, featuring the same chorus twice and one verse in the middle of it. Most releases by X have had heavy features by living rappers to flesh out what is left of the artist's recordings. 
"[Record labels] are exploiting the dead rappers for money because they are using their songs continuously that they had and added features [to them]," said Alex Ramos, a junior at Seymour High School. "They are just trying to get every cent out of [the rapper's] music."
XXXTentaction's first posthumous album Skins released with only one of 10 songs containing features, while Bad Vibes Forever, his second posthumous album had 14 of 25 songs containing features. His third and (hopefully) final posthumous album Look at Me: The Album contains all previously released songs during his career. 
"The second posthumous X album wasn't him, with Mac, it was complete but for X it had a lot of holes. I think if songs weren't complete, it shouldn't rely on features, or become a single, instead of a short album that seems forced by the label," said DiNunzio. 
It all comes down to how the label and family of the artist handle the situation. Becoming money hungry and selfish in looks to profit could destroy a legacy of a life taken too soon. 
"They should just not release the music if it isn't ready, it can ruin the discography of the artist if it isn't what their vision was," said Matt Newkirk, a Seymour High School senior. 
With the passing of Migos member Takeoff in November 2022, fans hope that he receives proper treatment of any of his unreleased recordings to honor his legacy instead of covering it in cheap unfinished releases. 
"Fans can hope that Takeoff doesn't receive the same treatment other artists have in the past and that labels will take the respectful approach," added Newkirk.