A Coach's Impact: NHS Athletes Reflect on Those Who Meant the Most
WOODBURY – When talking to an athlete about their most impactful mentors in their respective sport, you usually hear the travel coach, AAU or club team coach within the depth of the conversation.
Some forget to mention the coaches who help them during their high school seasons and career who also put time and effort into making their players the best they can be.
Many Nonnewaug athletes seek extra motivation from their coaches, including softball coach Chris Martin and track coach Arleigh Duff.
"Coach Chris [Martin] is a tough coach but he pushes us a lot," said Hannah Searles, a junior second baseman. "He knows we can do better and he helps to push us and get us to play the best we can."
"You can ask anyone on the track team and they will tell you that Arleigh doesn't like to take it easy on the conditioning," said Gianna Lodice, a junior track athlete, "but I think it's so important because going easy doesn't help you improve."
Even long after graduation, a coach's impact reverberates well beyond an athlete's high school years. Courtney Rowland, a 2022 graduate, still keeps in contact with Duff as she now competes at the University of Massachusetts.
"Even now he reminds me that, 'If you say you will do something, you will,'" Rowland said. "That statement is bold and I never really thought too much about it, but looking back, I achieved all my goals that I wanted to and he was by my side supporting me and training me to achieve them."
Having the kind of relationship Rowland and many others share with a coach is so important as mentors like Duff help to inspire something that goes beyond an athlete's training: a sense of confidence. 
"Now I'm trying to achieve more goals in college," said Rowland. "I wouldn't have been able to make it this far without his confidence and base training to put me in a position to be a college athlete."
Similarly, volleyball players love Nonnewaug coach Marty Malaspina because of the way he balances improvement with a good time.
"For me, I think a good coach is someone who wants the best for you no matter what, they care about how you are and how you're improving, they push you enough to where you learn and just enough so it's not too much," 2022 grad Keira Buckley said. "He pushes us to always give 100% and was tough on us for most of it, but during that, we were all having fun. I also think a good coach is one you get along with and can joke around with."
What makes for a powerful coach and mentor? The perfect mix of a disciplined coach and someone who makes the game fun. 
Within the intense coaching styles of coaches who want nothing more than to help their players reach their full potential, there are fun moments that come with it.
"Coach Chris made the team more competitive," said 2022 graduate Alyssa DeMarest, a former softball player, "but we were still there having a good time."
"I like how much he likes the game of softball and how he puts so much effort into teaching younger people about it," Searles said of Martin.
"What I like most about coach Duff is his passion for our sport," junior track athlete Gianna Lodice said. "Everything he does, whether it's our conditioning or the drills we do, has a meaning, and you can just tell he is totally committed to our success. He has a long history of success and he believes that we have the potential to be successful too."
Coaches are also ready to help their players get to the next level. 
"My coaches have helped me and many other wrestlers over time to be prepared for college wrestling, summer wrestling, or just competing at the next level," said Jack Wendel, a senior wrestler at NHS who will be suiting up for York College (Pa.) next year. 
"College coaches like kids who are coachable and catch on easily," Rowland said. "Coach Duff was able to explain all these traits to my college coach."
The impact of a high school coach doesn't stop here, though. Throughout the different teams are more and more coaches who want nothing but to see their players succeed, and for Nonnewaug athletes, their praise for their respective coaches is nothing short of effusive.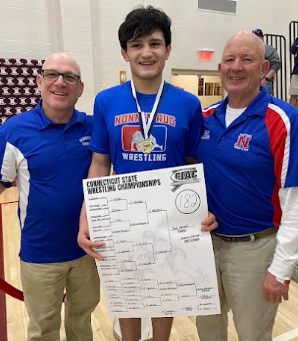 Coaches David Green and John Lawless, wrestling  
"He's helped me manage my academic schedule from time to time; he would always check in to make sure I wasn't falling behind in any of my APs." – Jack Wendel
Coach Marty Malaspina, volleyball 
"I had him as one of my teachers as well so he helped me out with school work, and if I just needed to talk about how well I was doing while playing, or if I just needed to talk about something in general." – Keira Buckley 
Coach Kaitlyn Barksdale, girls lacrosse
"Off the field she's just been really understanding with difficulties because we are a co-op program — things like travel time and clubs/work schedules, etc." – Zoe Inglis
Coach Toby Denman, boys soccer 
"He definitely makes sure to check in on us in our regular lives to see how we are doing and to make sure we are OK. Even during Covid, Coach always made sure to maintain the same expectations and the same energy as if it was a normal season. He continued to push us every day and continued to check on his players." – Diego Razo
Coach Deb Flaherty, cross country and track and field
"She's always looked to make defined goals for us for almost every single day. She'll come with what they want us to do, and it may be really hard to get there, but eventually we'll make it there. Defined goal-setting is how she has really gotten us to go far in the sport." – Jack Rubacha