A Family Responsibility: TJ Butkus Continues the Legacy of Laurel Knoll Farm
BETHLEHEM — Two o'clock in the morning. Flashlights shining deep in the woods while utility vehicles run over the bushes. T.J. Butkus, searching hours on end for the missing cows that got out while the average teenager was still sound asleep, eventually finds his cows and order is restored at Laurel Knoll Farm. Even after a sleepless night, Butkus then gets in the car to complete a full day of school. 
Life at Laurel Knoll Farm is anything but predictable. In fact, the unpredictability of running a family farm has grown into a welcome challenge for Butkus and his family. 
Butkus has been living and working on his family's farm his whole life. The farm has a rich history of providing for the greater Bethlehem community for generations. Laurel Knoll Farm: a home, a business, a thing Butkus holds close to his heart. 
Although the farm has been such a significant part of his life, it also brings a lot of stress. Imagine that: a 110-acre farm being passed down to you, and it's up to you whether this farm lives or dies. 
"It often gives me a feeling of uncertainty for the future," says Butkus. "But I also get excited to get a go at doing something I've been wanting my whole life." 
Today, Laurel Knoll Farm is a key provider for surrounding horse farms and other small businesses, selling and delivering hay to local customers. Butkus' farm is a well known name for many in Bethlehem and Woodbury. 
"We also board horses and rent out a house in our area which brings in income," says Butkus. "So between that and hay and a lot of side jobs, we are able to get by just fine. We deliver hay to horse farms. But other customers are also included, basically we will deliver all over Litchfield County."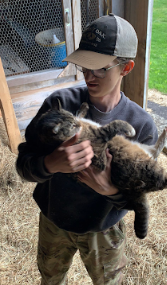 Although he doesn't have ownership at the farm yet, it is still a full time job in itself to get things done around Laurel Knoll with his father. 
"A normal day for me starts at 6 a.m. and ends at 7 p.m. for the hay season," adds Butkus.
Butkus' work ethic learned at Laurel Knoll isn't just something his family has seen as his role has grown over the years. 
"He is a very hard worker," says Brady Cordova, a longtime friend of Butkus' and an occasional farmhand at Laurel Knoll. "Every time I see him he's doing hay."
Luckily he is surrounded by friends, like Cordova, that are willing to help when he needs it. This is especially true during hay season, loading and unloading 200 to 400 or more bales of hay gets tiring when you're working in 90-degree weather.
At the farm sources of income also include boarding horses for the Waterbury police and renting out houses in the area.
Out of everything else his family has to do, they still find time to help out people in need. From neighbors to extended family, helping out almost never ends for them.
"Occasionally we are stopped a few times out of the day," Butkus says when speaking about the many roles his farm has in the community. "[We often] help out neighbors by mowing their yard or helping with firewood." 
Although the farm takes most of Butkus' time and he gives some of his free time to help out neighbors, he still finds time to find a release from the responsibilities. Riding dirt bikes or even going off-roading through his fields with his friends in trucks are some of the ways he gets out the stress that builds up from working on the farm. 
"Stressing about getting a field done before it rains is one of the things we worry about but once we get it done the stress is gone," says Butkus.
Stress is a common element of running a family farm.  Farming takes a lot of patience as well as a lot of consistency with the work you're doing.
"It's not even always about finding a way to relieve stress," says Butkus. "It's about trying to get done what needs to be done and then the completion of it fixes the stress." 
Fixing old tractors is another hobby of Butkus', as well as participating in tractor pulls in the fall. 
Outside of the farm, Butkus' life is still very much based around the outdoors. Hosting bonfires and enjoying the warm summer nights with his close friends is truly what Butkus strives to create in finding balance in his life, a routine that's not just constant work.
"I think that my life revolves around the farm," says Butkus. "Is very difficult at times but also makes me feel satisfied to work on the farm." 
But those fun times always come to an unfortunate end, and the long work day starts the next morning bright and early. 
"It gives me a big sense of accomplishment," says Butkus. "Overall I feel lucky to have the farm in my life."