Chiefs Win Second Straight BL Title Despite Coaching Change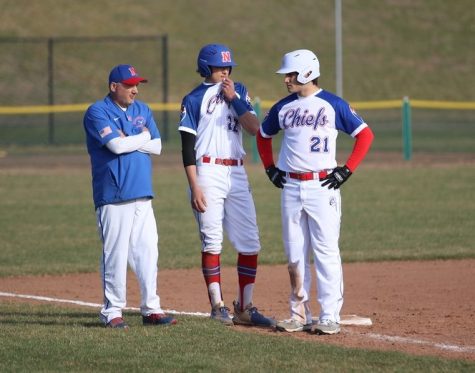 WOODBURY — The Nonnewaug baseball team was used to the face of coach Frank Melillo. Despite their head coach resigning midway through the season, the Chiefs' nine seniors and bunch of underclassmen still had the drive to bring home a second consecutive Berkshire League title.
Midway through the season, Melillo resigned due to increased work commitments, leaving assistant coaches Jimmy Alberto and Kyle Brennan to take over. It took the team by surprise. 
"It was pretty difficult. We were having a good season and he left, so it was a surprise," said senior first baseman Ryan Ponte. "We were pretty upset, but Jimmy and Brennan are good coaches."
"It was definitely something we weren't really expecting," stated sophomore pitcher Owen Palmer. "Frank has been here for a few years now, as long as I have at least, I know a while before and he's built a good program. I have a soft spot for him and he treated us well and it's tough."
Brennan said he and Alberto tried to keep a sense of consistency for the team.
"With Jimmy and I basically taking over, it was in a lot of ways not changing. Just my voice got a little more prominent," said Brennan. 
Even with the head coach gone, the mentality still stays the same within the team.
"The mentality has not changed," said Palmer. "We still need to win, BL first and then we are looking to win states this year. We have a pretty good team as far as that goes."
The team shares similar goals of pushing forward and making the most out of the regular season. 
"An accomplishment we hope to complete this year is to get further into the state tournament than we did last year," said junior Mason Pieger. "We are going to accomplish this by continuing to grind and to put in the work during the regular season and not taking any games for granted."
With countless underclassmen working hard to move their way up the depth chart, Ponte stated the team's leadership towards them has improved this year.
"I think just like the leadership of the team is a lot better," Ponte said. "I feel like we are nurturing the young guys a lot more."
With nine seniors on the team, it provides many older, wiser players for the younger teammates to look up to. 
"With so many seniors, it gives us a huge opportunity to control the mentality and drive of the team," said senior Nick Rose. "At this time last year we were very relaxed, but now we're still getting better every day."
The Chiefs finished the regular season 17-3 and clinched the outright BL championship with a win over Thomaston on May 22. They will host a first-round state tournament game May 30 as they seek to avenge last year's first-round upset loss as the No. 1 seed.