Is the NBA Voting System Flawed?
WOODBURY — As the NBA playoffs carry on and fans debate which teams will win each round, fans are also arguing who is going to win the NBA's top awards that are given out each year, and if they are deserved.
The most highly talked about award is the MVP, and 76ers center Joel Embiid secured the award for the first time in his career. He won over Nuggets center Nikola Jokić with 915 votes to 674.
Jokić has won back-to-back MVPs entering this season, while Embiid has finished in second place behind Jokić both years.
The controversy in the media between these two players for the MVP award is nothing new, as in the past there have been many instances where there were multiple players worthy of the award, yet fans didn't believe the person who ended up winning it was deserved.
This phenomenon has been labeled "voter fatigue," a symptom of voters growing tired of filling ballots for the same names year after year.
We see this with Steve Nash winning back-to-back MVPs in 2006-07, Karl Malone in 1997'and 1999, and many more players. During these seasons, legendary names like Michael Jordan and LeBron James may have rightfully compiled MVP-worth seasons, yet voters opted for new names for the league's most prestigious award.
"It's bad for the league and its players," said Carson Buck, an NHS junior. "It creates a bias of who the voters want to win instead of who actually should win."
Not only does the media have a controversy with the awards, but there is also controversy that the media shouldn't even be voting for awards.
"I think when you look at voting for All-NBA, when you look at voting for Defensive Player of the Year, Most Improved Player, MVP, ultimately these things are voted on by the media, which I think is absolutely disgusting," said Golden State Warriors forward Draymond Green in a media interview. "Because these are human beings that could have personal issues against guys because that does happen."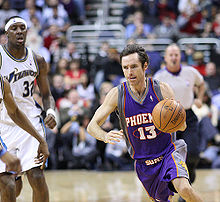 Another dispute between a different award is Magic forward Paolo Banchero not being unanimous Rookie of the Year.
Banchero received 98 of 100 first-place votes and one of the voters, Andy Larsen, voted for center Walker Kessler for Rookie of the Year.
The issue with this vote is Larsen is a writer for the Salt Lake City Tribune, and Kessler plays for Utah.
Larsen's reasoning behind the vote was analytics, but Banchero had one of the best rookie campaigns that are comparable to many all-time greats who have played in the NBA, including James.
Everyone is allowed their own opinion, but it's hard not to see different biases and narratives that are driven by the media that ultimately dictate who can win an award or not.
While it may seem not important for a player to miss out on an award, it would be different if different players are missing out on millions of dollars as many modern contracts incentivize earning accolades like MVP, and Rookie of the Year.
Each season, the same sports writers determine the select group of players named All NBA, perhaps the most incentive-laden accolade players can earn.
"They vote on the name value of what a player has done in the past instead of what a player does that season," said Mahro Mandible, a Nonnewaug senior. "I feel voters get tired of voting the same players for awards but go vote for the same guys for other awards, the way players are voted doesn't make sense."