Ivy League Fatigue: NHS Students Feel the Stress of College Acceptances
WOODBURY — Cornell, Yale, Penn, Dartmouth, Harvard, Brown, Princeton and Columbia are some of the most prestigious schools in the world. Cornell's 8.7% acceptance rate is the highest in the Ivy League, while the 3.9% rate at Columbia is the lowest. Hundreds of thousands of high school students across the world give up a lot to attend these distinguished schools. 
To achieve a GPA that would get you considered for Ivy schools, the classes students have to take are extraordinarily harder than regular run-of-the-mill college-prep classes. At the end of these Advanced Placement or Early College Experience courses, students have to take the exams as a final ticket to claim the college credits ,and if you don't pass, that credit doesn't count for college. 
"I do think the application process [to Ivy League schools] is extreme," states Kathy Green, Nonnewaug's College and Career and Resource Coordinator. "I think that kids are breaking themselves through their high school years to even be considered by these colleges." 
As students fill their schedules with the hardest classes available, slowly draining all of the free time they have for extracurricular activities for these prestigious colleges to even offer a second thought about them. Not many students get accepted due to these dog-eat-dog conditions. 
Rebecca Varnum, a senior at Nonnewaug, is going on to study medical science at Boston College's Connell School of Nursing.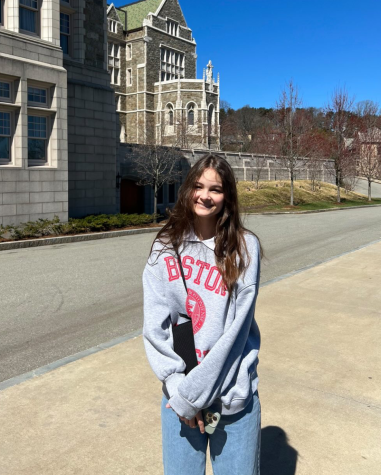 "Junior year was where it really started becoming a dream for me," Varnum said. "After I started researching nursing school and deciding I wanted to try to go to BC. I sacrificed a lot of time and opportunities to go out and have fun nights with friends for the sake of studying for tests and completing assignments, but with an ultimate payoff."
Some people work their entire schooling career to get into these high-class schools, as many colleges other than Ivy Leagues, like Stanford University, have built up their name to be some of the most elite schools to get accepted into.
"I think that the prestige that comes along with their names is a major attraction to students and families," said Green, "I don't know if that is for the right reasons all the time."
Applying to America's most prestigious schools is one thing, getting into them is quite another. 
"Once you get into an Ivy League, the hardest part is over – which is getting into the school itself," Toby Denman, a science teacher at Nonnewaug. "I went to RPI [Rensselaer Polytechnic Institute] which is easier to get into, but more difficult to keep up."  
Despite the high academic standards of these Ivy League and similarly rigorous schools, Nonnewaug consistently places students into these programs. 
"I don't feel like I made any major sacrifices," said Jeff Stein, a 2022 Nonnewaug grad and current Columbia University student. "I suppose I probably could have gotten better sleep in high school, but I'm not sure that's exactly a product of my academics."
Being able to say you graduated from Harvard or that you are attending such a highly ranked school is impressive, but is it really worth putting academic success before relationships, experiencing new things, and mental health?
"Students really need to check their priorities in high school, academics, their own mental health, and sleep, and even after that, if they still have their sights set on an Ivy League school, then I guess it's worth it," Green said. "Even with extraordinary effort it's still not a guarantee [to be accepted into a prestigious school]."