Morgan Wallen Stallin': Canceled Concerts Disappoint Fans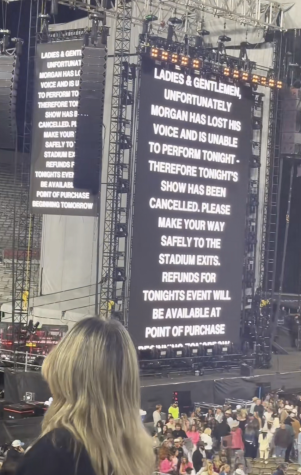 WOODBURY — April 23. Vaught-Hemingway Stadium in Mississippi was electrified with the excitement of 60,000 people waiting for famous country singer Morgan Wallen to walk out on stage within minutes.
Moments later, that stadium was filled with substantial anger and disappointment as Wallen unexpectedly canceled his concert minutes before he was going to walk on stage — the video screen's message noted that "Morgan has lost his voice and is unable to perform tonight."
Wallen is a country singer who has captured the hearts of millions across the country. With more than 24 million monthly listeners on Spotify, Wallen released his "One Thing at a Time" album in March of this year, breaking the record for most streams in a day by a male country artist.
Due to the vocal problem, Wallen has canceled at least 14 shows through June 3, impacting more than 700,000 fans, most of whom paid anywhere from $150 to $2,000. These concerts will be pushed back an entire year into May and June 2024.
"I wasn't that surprised because I know he canceled a show before because of being sick," said Sage Mauro, a Nonnewaug senior. "I was upset, but you can't do anything about it in the long run."
"I am not too worried about it being postponed again because he does have a date set," said Sophie Pape, a senior at Nonnewaug who purchased tickets to his May 20 concert at MetLife Stadium in East Rutherford, N.J. "The reason for it being postponed in the first place was out of his control."
Wallen re-injured his vocal cords as well as a vocal cord fold trauma — which is a direct problem with his voice box. The only way to fix this is with treatments, voice therapy, possibly surgery if the situation becomes worse. 
"After last night's show, I started losing my voice, so I spent the day resting up, talking to my doctor and working through my vocal exercises trying to get better," Wallen said in an Instagram.
Wallen said he is putting in the work to get better as fast as possible. Despite Wallen's best efforts to please everyone, the show rescheduling might be an issue for some people. 
"I am worried about certain schedule issues and the chance of not being able to go," said Pape. "I do think they should be refundable because of how expensive some of those tickets were and how far he set the rescheduled dates for the concerts in May 2024."