Nom-Com: Preparing the Future of FFA Leadership
WOODBURY — Becoming stationed by the flag, door, plow or other office is a grueling process. Becoming an officer of the Woodbury FFA takes patience, confidence, and a bit of luck.
Candidates begin by filling out a 12-page application complete with their skills, FFA experience, other involvement in the community and a full resume. 
For sophomore block candidates, they were interviewed by the current chapter officer team as well as the sophomore block advisor, Jen Jedd, and chapter advisor Eric Birkenberger on May 5 and 8. 
"I think that the interview went great overall. I got asked a lot of good questions and felt the questions I asked were answered thoroughly and thoughtfully," said Connor Cabeleira, a sophomore block candidate. 
For former sophomore block officers, the journey to becoming a chapter officer means reflecting on their first set of interviews those years ago.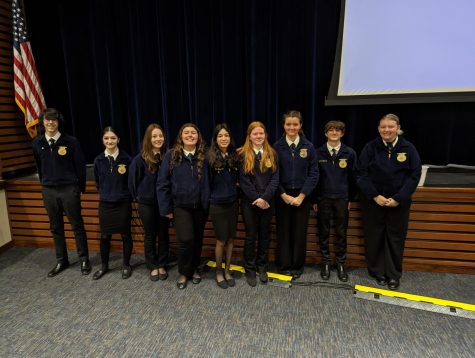 "The sophomore block interview was nerve-wracking and it was online and all of a sudden," said Emma Cummings, the 2021-22 sophomore block president. "I feel that this year will be a lot more formal because it will be in person and I'll do a lot better now that it's more ahead of time. I'm looking forward to seeing what position I get on the team."
For chapter office candidates, they were interviewed May 9 by the current chapter officer team, chapter team advisors, and the nomination committee, dubbed Nom-Com. 
"Students are picked for [the nomination committee] by their agriscience teachers. The committee is made up of one junior from each curriculum area, two sophomores, and two freshmen," said Eric Birkenberger, the FFA chapter advisor. "Students are chosen based on their character, FFA involvement, and care for the chapter. We pick students that want to help the future of the chapter, but don't plan on becoming officers themselves."
With great power comes great responsibility, as the chosen members of the committee work to ensure a successful future officer team. 
"The hardest part of Nom-Com was making the final decisions. When we were doing interviews it became clear that some people were stronger than others and certain qualities showed through," said Gabby Guerra, a member of the nomination committee. "The decisions made after the interviews were difficult as we had to cut some people, and then with who was left, [we had to] go back and forth between [the other members of Nom-Com] to make final office decisions."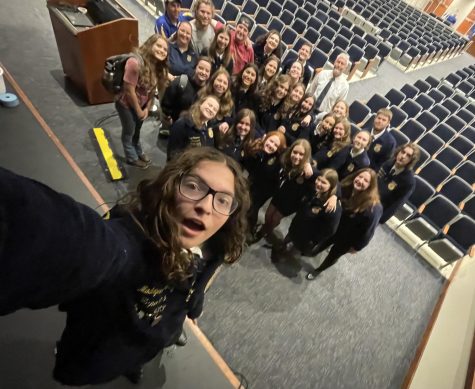 The 2023-2024 sophomore block officers for the Woodbury FFA are Katelyn Burrier, Connor Cabeleira, Isabelle Longley, Samantha DeMarest, Mia Layseca, Elsie Crocco, Christa Freel, Merije Ilazi, and Luciano Pedros. 
"I am very excited to become an officer because I know I will gain a lot of new experience that I wouldn't be able to go [as just a member of the chapter]," said Cabeleira, who will be the sophomore block parliamentarian. 
The 2023-24 chapter officer team for the Woodbury FFA consists of Samantha Kostka, Kyleigh Paige, Alyssa Gravel, Emma Cummings, Chloe Walsh, Zosia Olejniczak, Alexa Sweeney, Nicole Perssico, and Jason Suess. 
With the end of office looming for the 2022-23 officer teams, chapter officers like Samara Thomas, the sentinel, give words of wisdom to the new officers.
"My best advice for the officers next year would be to make sure you stay level-headed and not let personal opinions affect your performance as a team," said Thomas. "You are more like co-workers, you don't have to be best friends, but need to work together. Keep things professional, have fun, and remember you are what represents our chapter in the public eye."
The chapter is eager to see what the new officers will accomplish in their year of office as induction is scheduled for the Woodbury FFA banquet on May 22.
"I'm excited to see how each officer will do in their position, and I'm confident that we placed them well enough that they can all succeed in whatever is required [of them]," said Guerra.